What Is Digital Printing?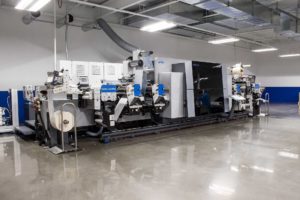 Digital Printing
Digital printing is a type of printing that does not require printing plates and other traditional prepress processes. In digital printing, digital-based images such as PDFs or desktop publishing files can be sent directly to a digital printing press and printed directly on to various substrates. These include paper, photo paper, heavyweight paper, plastic, folding cartons, canvas, fabric, synthetics, and card stock.
Typical printing methods involve the use of metal printing plates to transfer an image on to a substrate as well as other prepress processes such as making films and color proofs. Digital printing skips the need for the printing plate and other prepress processes needed to prepare the plate by printing the image sent to the press directly on to the substrate. This makes digital printing great for orders that require high detail but are also relatively small in quantity.
Advantages of Digital
Digital printing has a few distinct advantages due to the nature of how quickly prints can be processed. A substantial amount of time is saved by not needing a plate to be created to print from. Because of this, digital printing is great for:
– Print-on-demand
– Cost-effective short print runs
– Quick turnarounds
– Personalization and modification using variable data printing (VDP)
In order for digital prints to come out as good as possible a few things need to be properly considered. These include:
– The art file is prepared with a clean image that has a high enough resolution to meet the print size requirement.
– Crop and bleed marks are added as appropriate. This is to ensure that there are no unprinted edges in the final print.
– A compatible electronic file such as BMP, TIFF, GIF, PDF, or JPEG is sent to the printer.
– Ensuring that as much area of the paper as possible is used for the print to lower paper waste.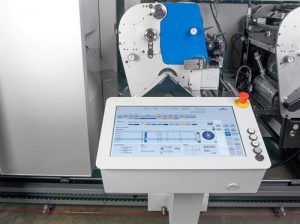 Hybrid Digital
Hybrid digital printing is a combination of digital and flexographic printing. A UV inkjet system is used to provide digital printing capabilities and is combined with flexographic printing stations to create a blend in technologies that make certain types of printing jobs much more profitable. The combination of the two technologies allows users to print a wide variety of projects that require a wide gamut of colors on almost any substrate. Short to medium print jobs are more profitable using hybrid digital because they require less substrate to set up, less ink, varnish, and laminate as well as less waste and overrun.
What is Expanded Gamut?
Expanded Gamut Printing is seven color process printing using the typical colors cyan, magenta, yellow, and black but also additionally using orange, green, and violet. Expanded Gamut Printing allows you to print a greater range of colors because it has more colors at its disposal than a regular four-color printing process. This helps produce higher quality labels, particularly with jobs that include high amounts of the extra three colors in the gamut; orange, green, and violet. The seven-color process provides an extra visual pop.