Direct thermal labels are a cost-effective method of creating simple labels in a large quantity. They run on continuous reels and do not utilize a thermal ribbon in the printing process unlike thermal transfer printing. This makes them more environmentally friendly and cheaper as the ribbons used in thermal transfer printing will cost more and are typically comprised from crude oil products.
In the direct thermal printing process a thermal print head will heat specific areas of coated thermal paper. An image is produced when the paper runs over the thermal print head and makes contact with the heated areas resulting in a black color on the paper in those areas. No ink, toner, or ribbon is used in the process; only heat-sensitive materials.
Direct thermal printing costs less to operate than inkjet printing or thermal transfer printing and it reduces waste and shipping weight. However, direct thermal printing is not a good method for printing labels that are built to last and withstand harsh conditions. These types of labels are very sensitive to light, making them likely to fade over a long period of time.
Direct Thermal Linerless Labels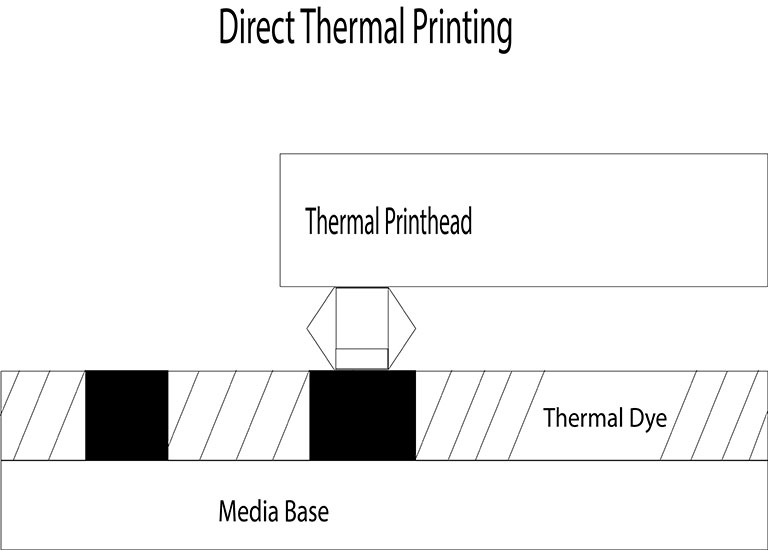 Another option that is growing rapidly in the retail space are direct thermal linerless labels. These are direct thermal blank labels that have no backing paper, hence the term "linerless". Linerless labels reduce waste and turnover time, making them a growing choice for many manufacturers. We have the ability to supply your business direct thermal linerless labels.
Direct Thermal Printing Applications
Event Tickets
Coupons
Name tags
Barcodes for different products
Shipping labels
Receipts
And more
Direct Thermal Printing Advantages
Good scanning properties
Sharp print quality
Ideal for items with a short shelf life
Simple to operate
Low maintenance
Offers batch printing with minimal waste
Saves time
No wrinkling
Less physical inventory