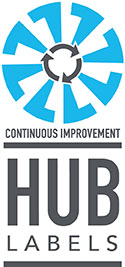 We are involved in many programs to increase the use of renewable energy, decrease all waste in and outside of the plant, improve our lean manufacturing practices, and are always exploring more environmentally responsible materials and manufacturing procedures. Our unique approach involves printing with eco-friendly water-based and UV inks, and recycling inks, liner waste, and water.
Initiatives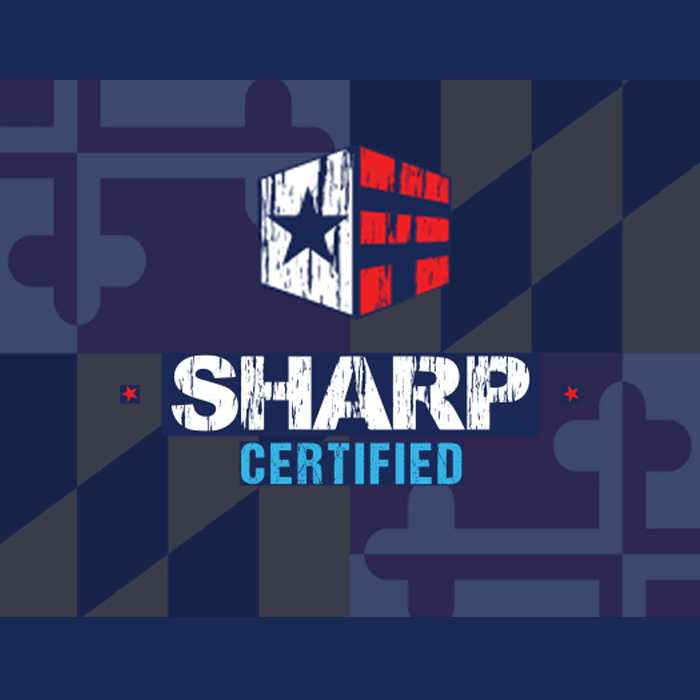 Sharp Certification
Hub Labels, Inc is recognized by the Maryland Safety and Health Achievement Recognition program (SHARP) as a certified SHARP business, making it one of the few businesses in the state of Maryland to pass the rigorous standards needed to become SHARP certified. With this certification, Hub Labels has demonstrated a commitment and dedication to go above and beyond normal safety requirements through continual ongoing efforts.
"There were a total of 58 attributes that we had to ensure we followed and the path to certification took just under 1 year to achieve", commented Jesse Hood, Hub Labels Continuous Improvement and Safety Manager. "We are really proud of our employees and management who took the necessary steps to ensure Hub Labels is one of the safest places to work in Maryland. It required we look at everything, from our policies and procedures, to the labeling of every ink bottle. This was definitely a team effort."
GMI and G7 Qualification
Hub Labels is a GMI and G7® Qualified Master Facility for our integrated color management system for producing digital durable labels. GMI and G7 are the leading industry standards and methodologies in controlling color and achieve consistent, desired outputs. Achieving both certifications requires an expert understanding of color, quality control and machine calibration.
Hub Labels is a part of a select group of global print service providers who have successfully completed training, examination and qualification process of their print production processes, validating their capabilities to the highest level of global industry standards and specifications. The implementation of the GMI and G7 methodology enables printers to reproduce a visually similar appearance across all printing types and substrates along with improving process control and production efficiency.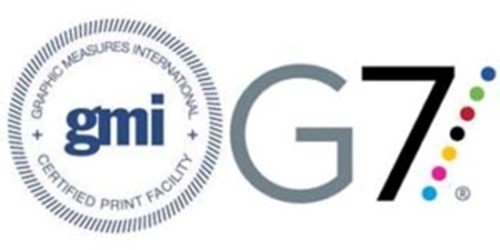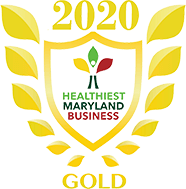 Healthiest Maryland Business
The Maryland Department of Health Center for Chronic Disease Prevention and Control announced the 2020 Healthiest Maryland Business and Hub Labels is honored to be part of the selected few who have earned the Gold Award. This is the third consecutive year Hub Labels has been recognized as a gold-level business and earning this badge of honor. The State of Maryland's Health Department began this initiative to create a statewide movement to promote a culture of wellness. This initiative aims to raise awareness about the importance of a healthy workforce and to recruit business leaders who incorporate healthy policies into the workplace.
Sustainable Green Printing Partnership
We are a certified member of the Sustainable Green Printing Partnership (SGP). SGP is a sustainability program designed specifically for the label industry. This green program demands that members constantly decrease their environmental impact and carbon footprint in four key areas: clean production, energy and greenhouse gases, product design, and management practices. This program was initially known as the L.I.F.E (Label Initiative for the Environment) certification program but merged with SGP in 2018. For more information please visit the SGP website.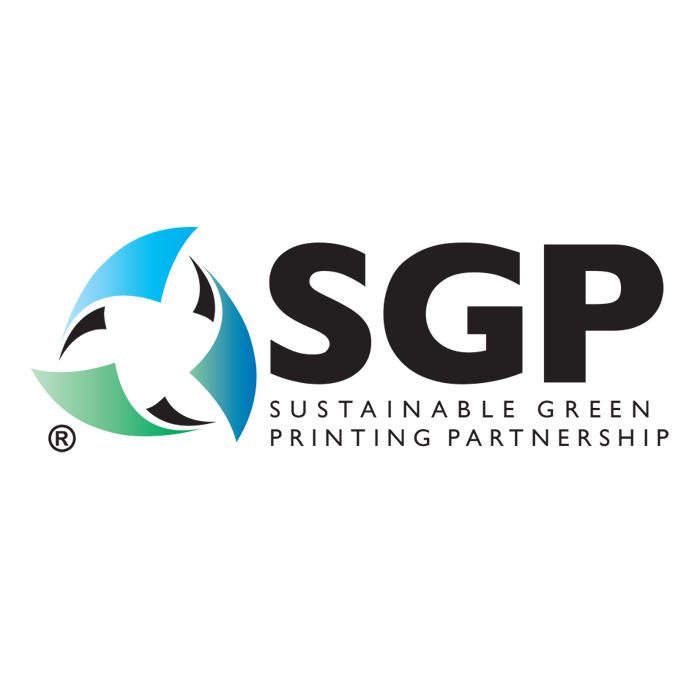 Landfill Free
At Hub Labels, we found two main benefits from our landfill free initiative. One is a new home for the thick corrugated cores that labels come on. Traditionally, the company's customers had to figure out how to deal with these hard-to-grind, bulky materials, but now they go into a mix to make a clean fueld to replace coal. The second solution is a streamlined disposal process. Before, Hub had three dumpsters for multiple streams; now it has one dumpster that its longtime hauler, Republic Services, picks up and ships to Enstorga. Each haul is 8.5 to 10 tons of waste. Since partnering with Enstorga, we successfully eliminated our waste from going to the landfill. Our measurement to show success was the physical amount of waste going to the landfill. in 2018, Hub sent 769,430 lbs of waste to local landfills. We are proud to say since October 2019, all of our waste is being used to produce a safe alternative fuel source and we are 100% landfill free.
Linerless Labels
Linerless labels provide all the benefits of self-adhesive labeling with improved efficiencies, volume applications and environmental advantages through their non-utilization of label liners. Standard Linerless labels deliver a semi-adhesive label format which partially adheres to a pack through a series of strategically placed glue strips. Label faces are supplied without liners which greatly reduces the reel weight by up to 40%, meaning less waste, storage and reel changeovers. Linerless labels work well with skin pack trays where placing a traditional label can be a challenge. We have worked with many businesses to integrate Linerless labels as a sustainable solution to branding their product on store shelves. Linerless labels have proven to be an ideal solution to the meat, poultry, and seafood packaging. In recent years, as consumer demand for environmentally friendly and minimal packaging has grown, we have seen a rise of Linerless labels use in other industries including produce, deli & bakery goods and pre-packaged foods. Hub Labels is one of only three companies in the United States producing Linerless Labels.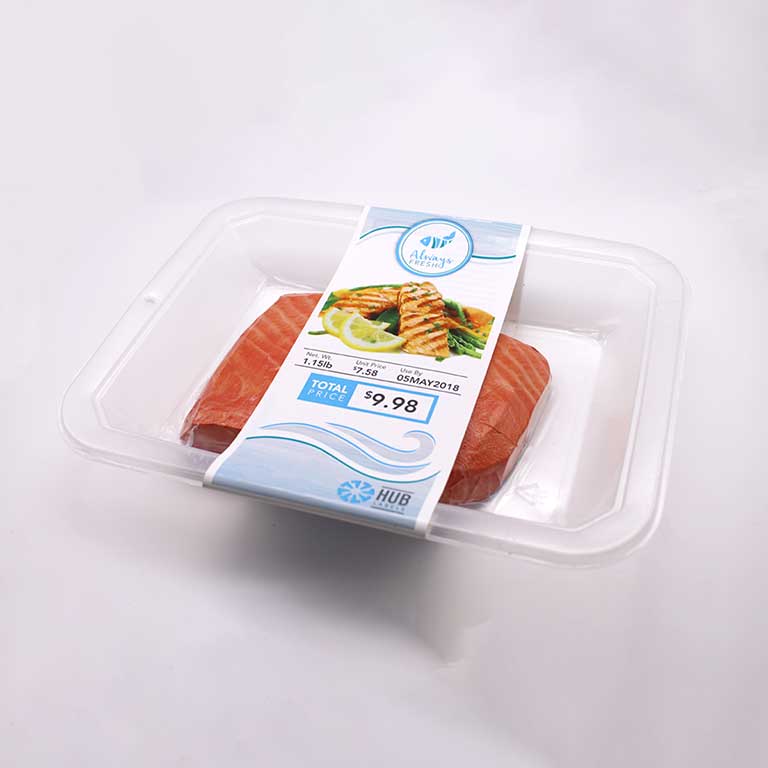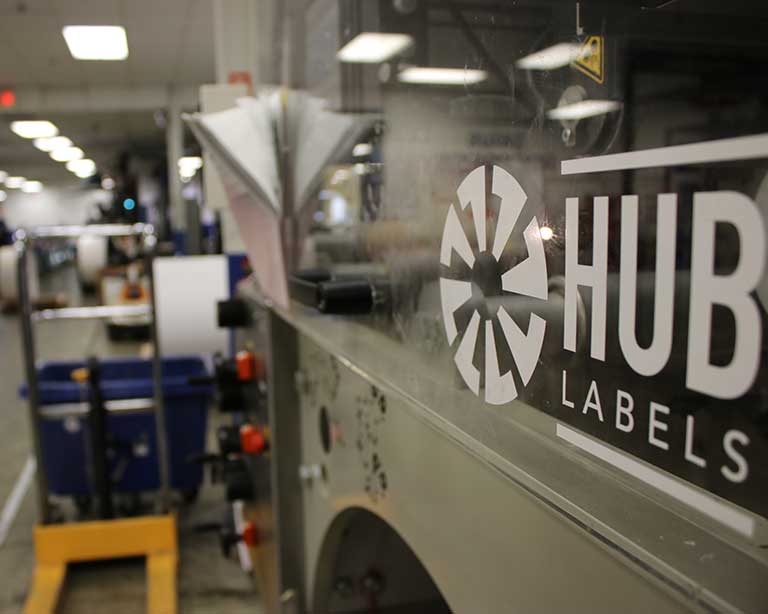 LED Lights
Many people are aware of the benefits of switching from outdated light bulbs with light-emitting diode (LED) bulbs. LED bulbs save energy, increase energy efficiency, lower electric bills and have a longer life expectancy than that of the old "regular" bulbs. Switching to LED bults was viewed as a win-win for Hub. We found that making the switch provided us with energy savings to reduce Hub's impact on the environment and it also helped us improve our bottom line with less utility spending, disposal spending, and maintenance spending. Each month, the maintenance team allocates time to change out the lighting fixtures throughout the plant and office to the new LED fixtures. Each fixture change results in a savings of KWH which generated anywhere from $2 to $10 depending on the type of light. Overall, we are at approximately 65% of the lights converted. Additional benefits include less inventory on hand, reduced heat load, utilized sensors to automatically turn off lights, and fewer bulbs used to generate the same visual appearance.
Corrugated Cardboard
Everyone knows about the environmental impact of plastic, such as water bottles and plastic peanuts, on our planet. Hub Labels decided to combat the negative impact of plastics by examining many of our standard business practices. Traditionally, bubble wrap is used when shipping packaging containers. At Hub, we started to look for alternative solution to minimize the bubble wrap used. During a visit to a trade show, Hub employees saw a machine that would allow us to reduce the use of bubble wrap and at the same time, allow us to reuse and recycle our corrugated boxes. The HSM Profipack takes corrugated boxes and "punctures" the cardboard in several locations to create a recycled wrapping material. Now instead of purchasing more plastic, the Hub team reuses the corrugated cardboard received from shipments and repurpose it to provide protection for the labels being shipping out.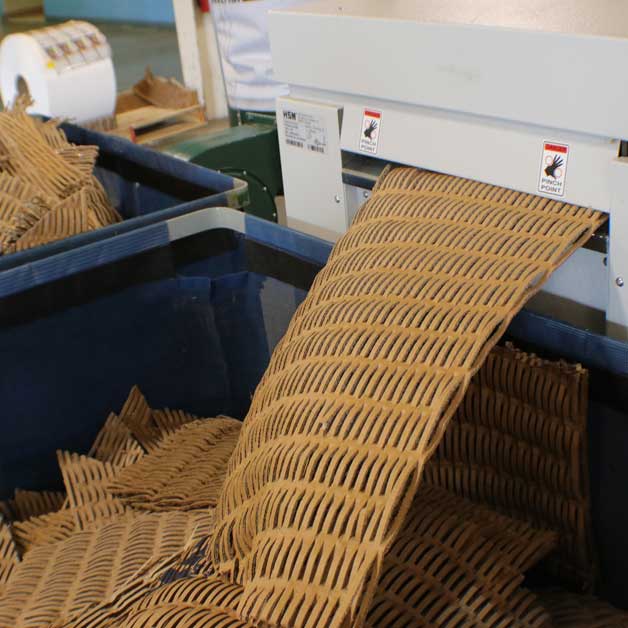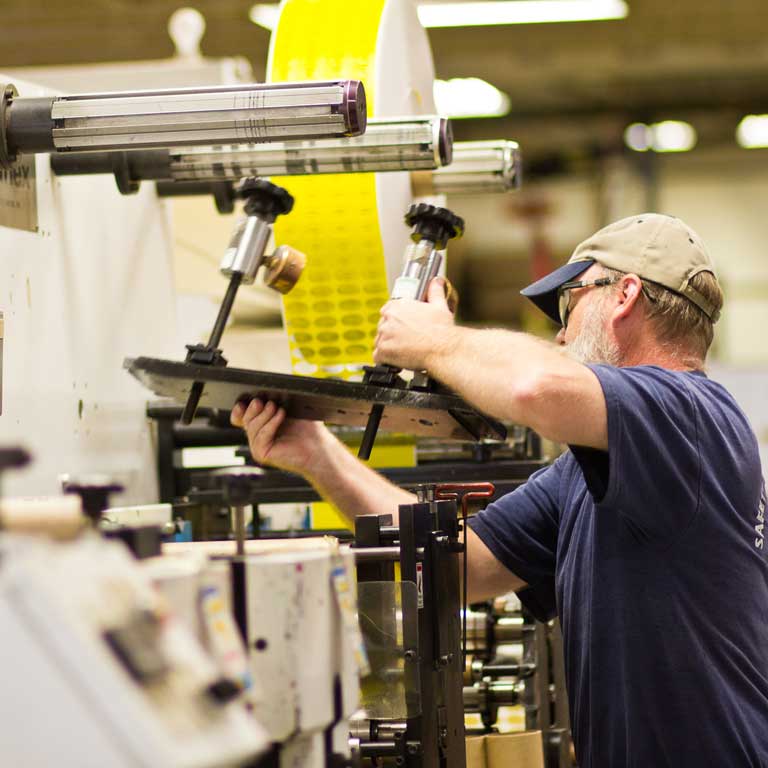 …And Much More!
There is a lot that goes in to being a strong label converter! We are focused on getting better in each and every one of those areas any chance we get. Just to scratch the surface; Our graphics teamed is trained with the latest Art Pro graphics training programs, we use ABT quality management systems to ensure 100% web inspection, we have the latest plate making technology, and we use beta flex technology for ensuring clear print on all of our labels plus so much more.