What Is Flexography?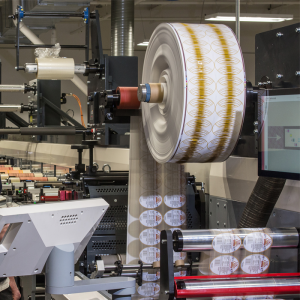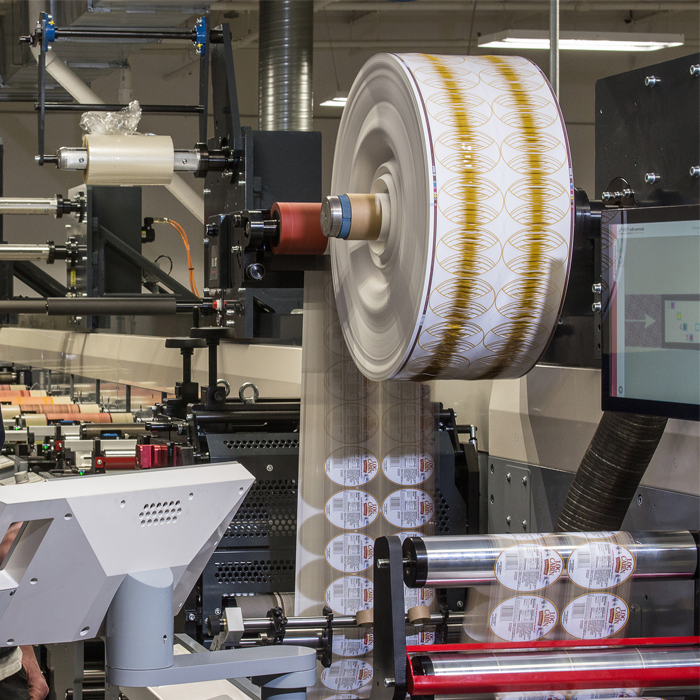 Flexography
Flexography is a type of rotary in-line printing method that can be used to print on any porous or non-porous flexible material. These materials include corrugated cardboard, cellophane, plastic, label stock, fabric, metallic film, and more. The flexographic printing process uses quick-drying, semiliquid inks and is suited nicely for long print runs and large orders of labeling products. Flexography machines also have lamination and die cutting processes integrated into them which helps maintain the integrity and shape of the final product.
Flexographic printing involves the use of flexible photopolymer printing plates wrapped around rotating cylinders on a web press. The inked plates will have a slightly raised image on them and when rotated at high speeds the image will transfer to the substrate. The inks used in the flexographic printing process can be used on many types of adsorbent and nonabsorbent materials.
Products packaged with flexographic printing are all around us. Things like a business forms, food and drink packaging, labels, envelopes, wallpaper, gift wrapping paper, newspapers, textiles, foil, folding cartons, and more. Prints with continuous patterns are especially suited for flexographic printing as the rolls used in the printing process allow for large orders to run with fewer interruptions to reload the substrate.

Advantages
Advantages of the flexographic printing process include:
High press speeds.
Ability to print on wide variety of substrates and any porous or non-porous flexible material.
Various ink types can be used (solvent based ink, water-based ink, or UV curable ink)
Equipment requires little maintenance.
Uses relatively low-cost consumables (initial cost of plate is high but price per unit is low).
Suited for long print runs.
Does all printing, varnishing, laminating, and die cutting in one pass.
Average speed of 300 meters per minute.
Flexographic presses use the 4 process colors (Cyan, Magenta, Yellow, and Black) but it can also accommodate 10 colors to create the extended color gamut.
Environmentally friendly due to capability of using water-based inks, recycled inks, and water washable flexographic plates.
Disadvantages
Disadvantages include:
Initial cost of flexographic printing plates is high.
It takes up a good bit of time to set up complex jobs that print, varnish, laminate, and die cut in one go.
A large amount of substrate is consumed during job set up which can mean wasting expensive material.
Changes to design are time consuming if they are needed.

Flexographic Printing Design
Just like any other type of printing process, there are certain types of specifications needed for flexographic printing. Things such as types of proofs, template and die cut specifications, drop shadows, tints, fonts, issues with knockouts, image resolution, and image formats. All of these things have to be considered before printing in order to get the best quality of flexographic printing possible. If you're new to flexography and flexographic printing it is best to talk to a printing company about the necessary specifications needed in order to develop the best design that will lead to the best final product.
How It Works
Typically, a printing press will have numerous printing stations within the press based on the number of different colors needed for printing. Each station is responsible for one color. The substrate will pass through the different print stations with each one applying a different color in order to achieve the particular shade of color wanted. The steps in Flexographic printing go as follows:
The anilox roller transfers ink from the ink pan to the plate.
The doctor blade measures the ink to make sure an even amount is transferred and distributed correctly.
The substrate is passed between the impression cylinder and plate cylinder and moved on to the rotating cylinders.
The rotating cylinder imprints on the surface of the substrate as it rolls through transferring the design from the cylinder to the substrate.
The substrate is then passed through a dryer to dry the ink.
These steps are repeated across different printing stations until all colors have been applied.
Once all colors have been applied, the substrate is dried for the final time and laminating, die cutting, sheeting, and any other necessary processes are carried out as need be.
The final product is then cut and rewound for easier use.