Understand Label Face Stock and Liner Choices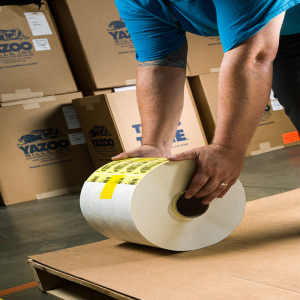 Basic Label Face Stock Options
Hub Labels offers a huge library of label face stocks and we know the various choices can feel overwhelming. A label face stock, also known as the label substrate, is the front side of the label where the inks are placed. Label face stocks fall into two main categories: paper labels and film labels.
Paper Labels
Paper labels is the most common choice for a prime label application. Paper labels are made from natural wood or pulp and are typically more environmentally friendly, though the label adhesive can limit recyclability. To make your paper label more eco-friendly, we recommend considering a thinner face stock. Label thickness is measured by the unit, "mil" and is equal to one thousandth of an inch or .001 inch.
Film Labels
Film labels are made from plastic or synthetic material. Through our partnership with UPM Raflatac, Hub Labels is also able to offer a clear film made of wood. Film Labels are best suited in the food industry, health and beauty, beverage market or for any surface that risks moisture exposure.
Film labels can be broken down further to include plastic or BOPP labels, also known as Biaxially-Oriented (BO) Polypropylene (PP), vinyl labels, polyester (PET) labels, and polyimide labels. Each of these materials have different levels of chemical resistance, temperature resistance, U.V. resistance, conformability, and cost.
BOPP labels are very popular film labels due to their resilience and moisture resistant properties. BOPP labels are thin, strong, recyclable and are oil/water resistance. These labels work well for tubes and other squeezable containers, making them a staple in the health and beauty market-space.
Specialty Paper and Film Labels
Now that we know that all labels are paper or film, let's explore other specialty label materials that are available. These specialty label substrate choices can be useful when you want to achieve a unique look over an entire label. We may recommend that you consider other label embellishments, such as cold foil, when the embellishment needs to be limited to one or two elements on the label face stock.
Metallized Labels
Metallized labels are available as a paper substrate or a film substrate. Metallized labels are easy to print on and make the inks look bright and shiny. These silver foil backed labels really make a product stand-out on the shelf and are great to catch the eye of the consumer.
Foil Labels
Foil labels are also known as MaxFlex labels. Foil labels are paper labels, so the material can tear. The foil in the label is made from aluminum or other alloys. Foil labels can be a great option for the snack food industry.
Tag labels
Tag labels are made out of paper and are most commonly used in the retail industry or in an unsupported market that does not see a huge demand. Tag labels are usually quite thick at 70mm.
Static cling labels
Static cling labels are made of PVC vinyl film face stock and are perfect for smooth surfaces, such as glass. These unique labels do not have an adhesive and are usually quite thick at 6 mil thickness. They typically use a heavy liner and are considered a premium piece in the direct mail space because of the soft touch feel of the material. Due to static cling's properties, it is not considered environmentally friendly. In response to this, Hub Labels has identified a lite-tack window cling BOPP material that is 2 mil thick, clear with an ultra-removable adhesive and a thinner liner.
Magnet labels
Magnet labels are made with paper or film and have a flexible magnet on the bottom layer of the label. Magnetic labels are very thick and can produce more waste than a typical label run.
Holographic labels or HoloFX labels
Holographic labels, also known as HoloFX labels, are very similar to metallized labels in that the material will make inks bright and shiny. HoloFX labels are available as paper or film face stocks. When you need a spot holographic element or an entire label to have a holographic look that is sure to capture the consumers attention, we have various label options to fit the job.
FDA food compliant labels
FDA food compliant labels are face stocks that come in contact with food and meet FDA regulations. See our FDA guide available for download. We must know if your label comes in direct contact with food so we can properly advise you on your label options.
Label Liner Options
Label liner is an important part of a pressure sensitive label. Also known as backing paper, the label liner is what carries the label to the product applicator and protects the label prior to application. For different types of products and application methods, we will recommend a liner best suited for your label application process.
SCK Liner
SCK liner, also known as semi-calendered kraft liner, is a low-cost liner for paper materials which is ideal for die-cutting and stripping.
PK Liner
PK liner, also known as poly-coater kraft liner, is more expensive than the SCK liner due to the fact that it has a layer of poly that improves the die-cutting process and strengthens the liner to reduce web breaks. This helps reduce down-time and stops to production.
LF Liner
LF liners or lay flat liners, won't curl and gives the label more stability.
PET Liner
PET liner or polyester film liner, is the most common liner on the market. PET liners are thinner and can fit more labels on a roll which equates to less down-time, creates more value and is a great sustainable option due to its recyclability. PET liners are ideal for high speed die-cutting and stripping.
BG liners
BG liners are bleached glassine liners that are good for low to medium speed dispensing.
Which label materials do I need for my custom label?
Here's the good news. When you work with Hub Labels, we'll ask you the questions that will help us identify the right materials for your job. Want to try a new face stock? Contact Hub Labels and we will work with you to complete label test runs and we willl be available to help solve any issues that arise during the application process. We work with our label manufacturing partners, label application equipment suppliers and our customers to find solutions.