Sparkle, Shine & Shimmy with HoloFX Labels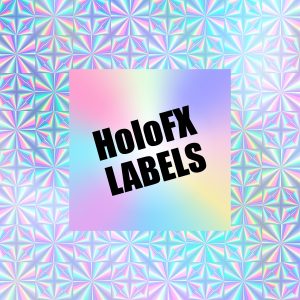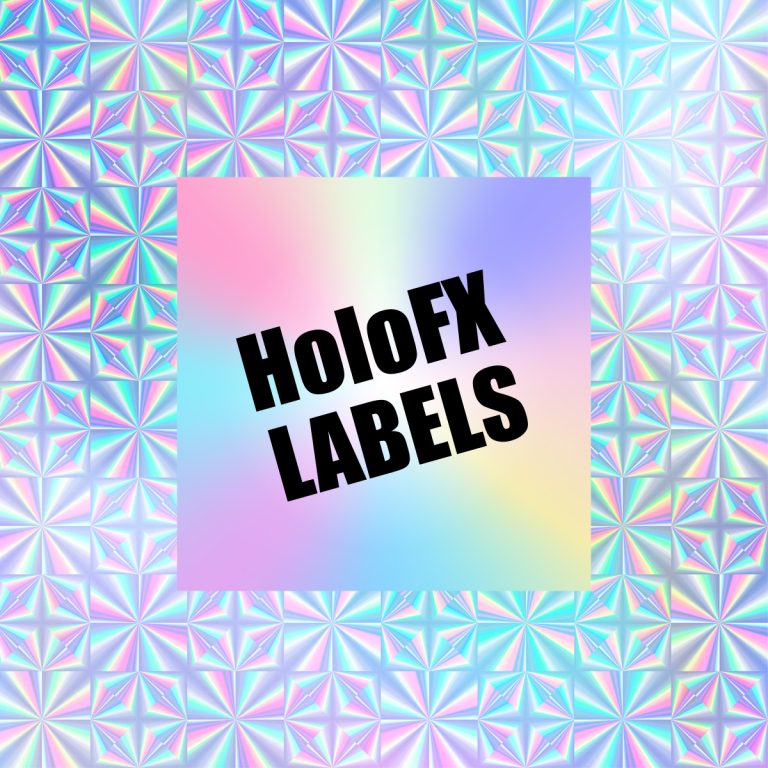 Retail is a competitive market that requires packaging and labels that stand out. Consumers have short attention spans and there is an overabundance of options on the shelves. When you need to stand apart and be seen, nothing works quite like HoloFX labels to do just that. Razzle and dazzle consumers with a label that sparkles, shines, and shimmies.
Traditionally, holographic foils and materials are needed to create similar label embellishments. HoloFX is a cost-effective and environmentally alternative to these traditional methods. HoloFX can also be used in conjunction with other label embellishments including cold foil and hot stamping.
What are HoloFX Labels?
HoloFX creates a holographic label finish that stands out as it reflects light to capture a person's eye.  Also known as Cast and Cure™ or film casting, this affordable and effective finish uses diffractive light to stand out, create product differentiation, and increase a product's visual appeal.
How to Add HoloFX to your Label Design
When designing a label that utilizes HoloFX, you can specify where you want the effect to be applied. If the label embellishment will only occur on certain areas of a label, this is called a spot. Otherwise, if an effect will cover the entirety of the label, this is called a flood finish. In either scenario, be sure to add a layer to your artwork called HoloFX that shows where the effect will be applied.
When printing the label, we setup a station on press to apply a UV or EB varnish wherever the effect will be applied. As a result, the HoloFX film is temporarily laminated on the substrate as it passes through the station on press. The film has a micro-embossed surface that will cast the "cased" image on the surface of the varnish. The HoloFX material is then delaminated and pulled away from the label. This leaves behind the pattern on the label material. In addition, because the HoloFX film is pulled away and left intact, the film can be rewound to be used again and again.
Designing Holographic Labels with HoloFX
UV film casting is typically used over inks and cold foils, but can be used in combination with hot stamping foils. It is usually the last step in the printing press process and works well on a variety of substrates.
Apply as a spot to create subtle enhancements or go full-flood for an all over refractive surface.
HoloFX looks dramatic on dark and vivid colors.
Combine cold foil with HoloFX to  simulate holographic metallic substrates but it may require a second press pass due to press station limitations.
Our library of patterns includes many stock patterns, or order a custom holographic label pattern. Pattern areas will register to artwork but the pattern elements will not register. If a holographic image needs to be registered directly to overprinting, a custom-registered holographic substrate will be necessary.
Additional uses of HoloFX labels
HoloFX can be used as decoration or as a security and anti-counterfeiting feature. The reflective surface created is eye-catching and appeals to a consumer's sense of touch.
There are three big wins then considering HoloFX labels, including:
It does not affect the recyclability or composability of a package.
It provides dynamic visual appeal.
It is cost-effect compared to other label embellishments.
It can be used across a variety of industries, including on food packaging (by using the EB varnish in lieu of a UV varnish.) In addition, because the material is not metalized, brands can use RFID tags without fear of interference from the material.
Understanding the Environmental Impact of HoloFX
In addition, HoloFX is considered environmentally friendly and is perfectly aligned with Hub Labels' sustainability views. It's a great option if you want to add some bling to your packaging but want to be considerate of environmental impacts. As mentioned, the material is used multiple times which results in less waste in landfills. A single 5,000 foot rolled can be used 20+ times. This results in over 100,000 feet of finished labels with a single roll.
Secondly, it also makes packages easier to recycle as it eliminates the need to use metalized films traditionally used to create similar effects. In addition, because the process doesn't actually transfer a film to the label, the finished label roll is lighter and can help reduce transportation costs, as less fuel is required.
Furthermore, the HoloFX material is made from a BOPP and is recyclable. This means no materials need to end up in a landfill.
Holographic Labels with an ROI
When you need product differentiation, visual appeal and sustainability from your packaging, HoloFX is the perfect solution that checks all the boxes. Holographic labels using the HoloFX technology generates a higher return on investment for brands at an affordable cost. Brands across a wide range of industries have successfully used HoloFX to stand out on retail shelves.