Benefits of Skin Pack Linerless Labels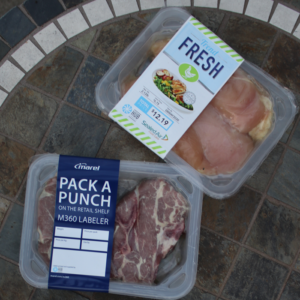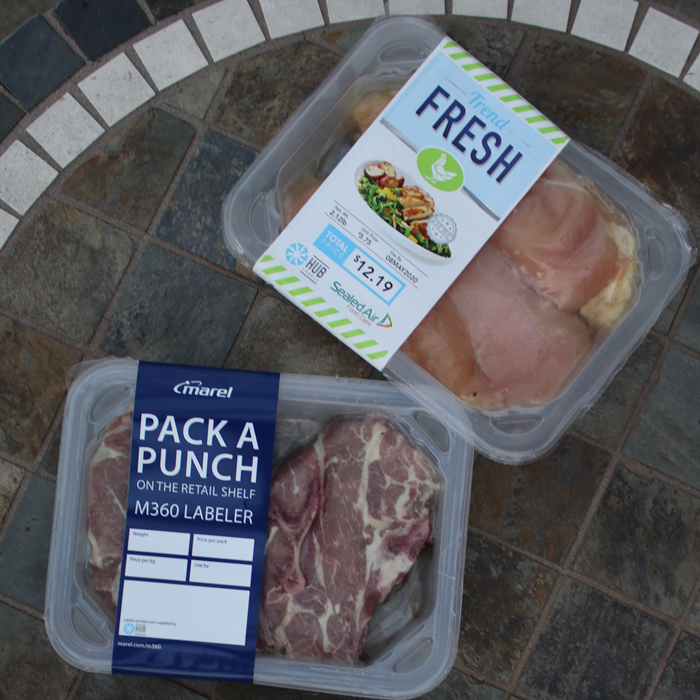 Skin Pack linerless labels are the perfect solution to label vacuum sealed packaging or VSP. These meat trays have grown in popularity as states pass legislation banning Styrofoam trays, which cannot be recycled. There are additional benefits to switching to skin pack trays featuring linerless labels including extending the product shelf life, preventing freezer burn and creating a better on-shelf presentation at the supermarket.
A VSP tray uses a film that conforms to the shape of the meat, poultry or seafood inside. All the air is vacuumed out of the package to seal the product inside. It is a great alternative to standard modified atmosphere packaging as it helps maintain freshness and flavor.
There has also been a rise in grocery store chains demanding their suppliers switch packaging to skin pack trays featuring linerless labels. This is because the sealing of the meat, chicken or seafood inside prevents any liquids in the product from leaking which means these trays can be stacked on their side. Shoppers no longer have to walk up to a freezer bin and look down to see what is inside. Instead the product can be seen as a shopper walks by which results in increased sales. It also allows for more product to be place on a store shelf, increasing valuable real estate space.
KEY BENEFITS TO LINERLESS LABELS
INCREASED PRODUCTION EFFICIENCY
MORE COST EFFECTIVE
REDUCED SHIPPING COSTS
REDUCED INVENTORY SPACE
RELIABLE AND DEPENDABLE
VERSATILE MATERIALS
FLEXIBILITY
PACKAGING ENHANCEMENTS
HIGH CONSUMER APPEAL
Linerless Label Packaging Enhancements
Linerless labels can be manufactured to fit many different sized trays. While most processing facilities prefer the 360° full-wrap linerless label, there are a variety of options to choose from to create a custom label for any given product.