How linerless labels reduce food waste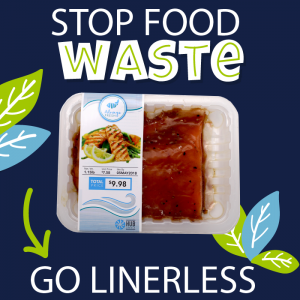 The United States is the global leader in sending food to our landfills, with more than 80 billion pounds of food thrown away each year. That equates to more than $161 billion dollars per year and is 219 lbs of waste per person. It is estimated that the United States sends 30 to 40% of the US food supply to landfills each year. Food is the largest component taking up space in landfills.
You may be wondering how a change to your packaging can reduce food waste and reverse this trend. By switching to a vacuum skin packaging tray, provided by companies like KP Films, you can ensure food stays fresher, longer for your customers. This technology will prevent freezer burn, while also extending the shelf life. The film used on these trays prevents oxidation so food will taste better and also have an improved textured.
Labeling these trays though can be difficult. The airtight seal means that the film protecting the food conforms to the food in the package. Applying a label on an uneven surface so the barcode can be properly scanned and so the pack looks appealing to consumers is a challenge. Linerless labels provide the perfect solution to this problem. Our linerless labels for skin pack trays wrap around the tray, providing your brand the opportunity to market on the top, sides, and back of the label. We can also print on the back of the label, giving you more opportunity to build your brand and create brand loyalty. Linerless labels also make stacking the trays easier for consumers in their freezers and look really good on the store shelves.
The benefits don't end there. Linerless labels don't use a liner, so this further reduces waste to the landfills. No liner means we can fit more labels on a roll and there are less production line change overs. The rolls weigh 40% less than a traditional PS Label roll and reduce fuel demands while transporting.
Check out our infographic on food waste and how linerless labels can help reduce food waste in the United States.