Why Do My Labels Keep Falling Off?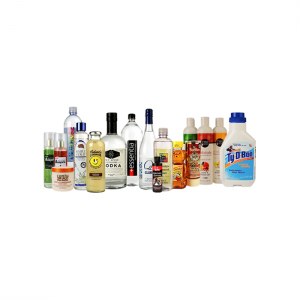 At Hub Labels, we love labels and everything that makes up a label, including the label adhesive used. We geek out a little when we are asked questions about why a product label peels on the edges or falls off completely. Selecting the appropriate adhesive for your container's label is critical towards its success. When labels are falling off a product container, there are a number of factors that come into play and should be considered to solve this common problem.
Simply saying a container or bottle is made of plastic will not suffice when it comes time to label it. There are six main types of plastics. This includes: Polyethylene Terephthalate (PETE or PET); High-Density Polyethylene (HDPE); Polyvinyl Chloride (PVC); Low-Density Polyethylene (LDPE); Polypropylene (PP); and Polystyrene or Styrofoam (PS). There are many additional miscellaneous plastics but the most common are listed above. Your bottle manufacturer will be able to tell you the composition of your container. Other common container materials include glass, cardboard, wood, metal, fabric and paper. When we design a custom label for any customer, we want to know the composition of the product where the label will be placed so we can be sure to select an adhesive that will work best for your unique product.
We have a whole other article when it comes to adhesives but here are the basics you need to know. Adhesives are available on a scale. On one end of the scale, we have removable, non-permanent adhesives. On the other end of the scale, there are aggressive adhesives that are permanent and durable.
Check out our article on adhesives to learn more about the important role of choosing the right adhesive for your product container.
When labels are applied at room temperature and in dry conditions, label applications are apt to work as expected. When your label needs to be applied in cold or wet production environments, such as how beer labels are applied, it is important to have a label that can hold up to that process. Labels that are designed to be applied in wet conditions will often be referred to as "wet-strength" labels. Labels that are designed to be applied in cold conditions will be referred to as "cold temp" or "all temp" labels. Making sure your label manufacturer takes this into consideration is critical to ensure labels don't tear or fail.
Not every application will require a test. Label manufacturers understand that beer labels are applied in cold, wet environments and should be making recommendation for a proven pressure sensitive label based upon their industry knowledge. But if you have a unique labeling requirement, new bottle design, or are running into issues, then getting your vendors together to solve the problem will save you time and money.
At Hub Labels, we don't sell a one-size-fits-all label for your product. We want your label to work correctly, the first time. Whether you need a removal label or a label that will stick permanently, we will work with you to find the most cost effective solution that will meet your needs. We have the connections within the industry to identify and test the right label and label adhesive for your product and application process. We know sometimes there will be problems and will work with you and your other partners, along with your equipment manufacturer to ensure all factors have been considered to avoid downtime on your production line.