Direct Mail & HoloFX: A Single 5,000 Foot Roll Can Be Used 20 Times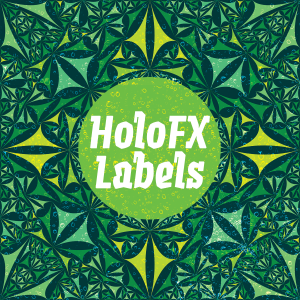 HoloFX Labels In Direct Mail
A high direct mail response rate is what we all want. Embellishments can get you there. Yes, they are a value-added service, and yes, you might be wondering if the juice is really worth the squeeze. We can say with certainty that it is. Of course, it's obvious that we'd say that… but hear us out! HoloFx.
HoloFX is a cost-effective alternative to traditional holographic foils and materials. You're getting that same differentiating embellishment in a manner that is more cost-effective and environmentally friendly. HoloFX will enhance the presentation of your brand and make that mailer you spent so much time on that much more memorable to your audience.
Embellishments bring return on investment and results. HoloFX is another player in the embellishment game, and it might be perfect for your direct mail needs. The slight added spending can be justified when it leads to the consumers increased perception of your brand.
What Are HoloFX Labels?
HoloFX is our term for Cast and Cure labels, which is also known as film casting. HoloFX is an embellishment method that uses UV or EB varnishes and specialty films to create a label finish that reflects light and creates a unique shine to catch the consumer's eye. When a label is "cast" and "cured" it means diffractive light elements are being applied to the UV coating on the surface of a material. This results in a cost-effective and sustainable product that is visually appealing.
HoloFX is a very flexible printing technique because it can be applied to an entire label or just specific areas of a label. This is called flood applied or spot applied. It is a clear effect so it won't interfere with pre-existing graphics, and it doesn't require the use of opaque white to cover up unaffected areas like you would for holographic laminates.
How To Add HoloFX to Your Label Design
With HoloFX you have spot finish and flood finish. Spot finish is when you specify parts of the label where you want HoloFX to be applied. Flood finish is if the whole label is covered with the HoloFX effect. An added layer should always be applied to your artwork showing where the HoloFX should be applied.
When we print HoloFX, we temporarily laminate the HoloFX film on the substrate through the application of a UV or EB varnish. The film itself will then "cast" a micro-embossed surface on to the applied varnish. Once this occurs the HoloFX material is delaminated and stripped away from the label leaving only the micro-embossed pattern behind. The HoloFX film that is pulled away remains intact so it can be reused repeatedly. More about that in second!
Designing Holographic Labels with HoloFX
UV film casting is typically used over inks and cold foils but can be used in combination with hot stamping foils. It is usually the last step in the printing press process and works well on a variety of substrates.
Apply as a spot to create subtle enhancements or go full flood for an all over refractive surface.
HoloFX looks dramatic on dark and vivid colors.
Combine cold foil with HoloFX to simulate holographic metallic substrates but it may require a second press pass due to press station limitations.
Our library of patterns includes many stock patterns, or order a custom holographic label pattern. Pattern areas will register to artwork, but the pattern elements will not register. If a holographic image needs to be registered directly to overprinting, a custom-registered holographic substrate will be necessary.
WHy USE HOLOFX LABELS In Direct Mail
Essentially, you can achieve the big 'WOW" factor your direct mail piece needs in a more cost-effective manner to achieve a greater ROI. It is a necessity to increase your brand recognition or perceived value in the direct mail space. HoloFX does this while also giving your designers a new creative freedom to think outside the box about the messages they want to send and the designs they want to make.
There are three big wins then considering HoloFX labels, including:
It does not affect the recyclability or composability of a package.
It provides dynamic visual appeal.
It is cost-effect compared to other label embellishments.
Understanding the environmental impact of HoloFX
HoloFX lines up perfectly with our own sustainability objectives as a company, and it might fall in line with yours as well. The big thing is the reusability that we mentioned previously. A single 5,000 foot rolled can be used 20+ times which equals roughly 100,000 feet of finished labels using just one roll. This makes HoloFX an extremely attractive embellishment option.
There is much more too, we are just going to list them!
HoloFX Sustainability Benefits
Due to its reusability, there is cost savings in reducing the amount of material needed
Cost savings through lighter packaging, transportation costs, fuel as no material is transferred from the casting film to the substrate so no weight is added
No material in the landfill because casting films are recyclable as opposed to laminated metalized films used in traditional holographic processes
No volatile organic compounds
Holographic Labels With An ROI
One of the main factors, if the not the most important factor, is will a decorative enhancement that comes at an additional cost bring a return on investment. When you take HoloFX and compare it with its embellishment cohorts the potential for return on investment is amongst the most stable. With HoloFX you get differentiation, visual appeal, and sustainability to fill out a multi-faceted packaging solution that can lead to results at an affordable cost.