Sustainable Labels Manufacturer Wins Award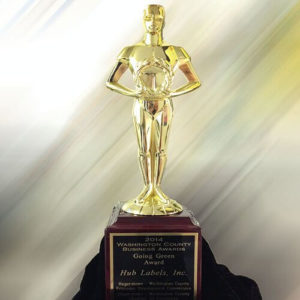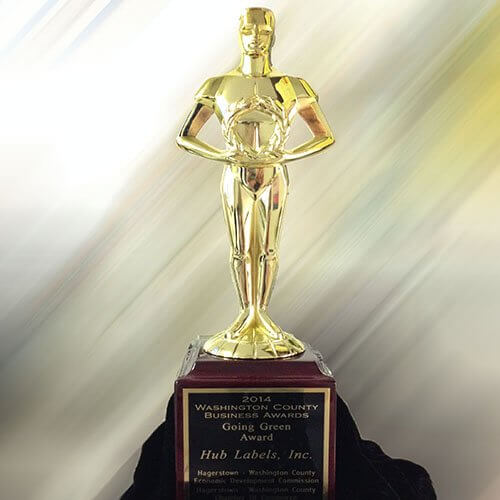 Hub Labels establishes business as leading sustainable labels manufacturer. Wins "Going Green" top honor for efforts to reduce, reuse and recycle.
Hagerstown, MD | February 26, 2014
Hub Labels won the "Going Green" award at the 15th annual Washington County Business Awards. Guests arrived at the Hager Hall Conference and Event Center to recognize Hub Labels' efforts to reduce, reuse and recycle. Every year, a local business is selected for the honor. Hub Labels is proud to be selected for this year's award.
Creating Sustainable Labels Solutions
Hub Labels "Going Green" journey began in 2009. Hub Labels partnered with a UK business to introduce Linerless Labels for skin pack trays to the United States. Skin pack tray are used in meat industry. Labeling is difficult due to the meat pack shape. Usually, meat packs do not have a flat surface area for a prime label. An airtight film seals in the food. The film conforms to the food shape, which extends the product shelf life. Thereby, wrapping a label around the entire food pack makes labeling easier. Additionally, linerless labels provide on-the-shelf consistency, and increase product branding real estate. As a result, linerless labels increase sales and revenue.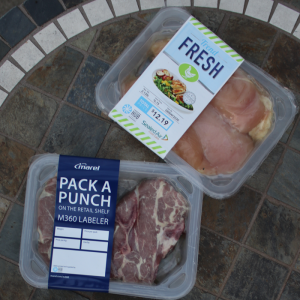 Food processors see many additional benefits. A no-liner label means no waste to landfills. Additionally, fall injuries are reduced, as there is no label waste on floors. Also, more labels fit on a roll. As a result, production lines see less downtime for label changeovers. Linerless labels weight less. Therefore, shipping weight and transportation costs are reduced.
Linerless labels are ideal for high-volume food manufacturing lines. This includes meat, poultry and seafood industries. Furthermore, bakery goods and prepared foods are also a great fit. Pressure sensitive labels are best for flat, smooth surfaces. However, for odd-shaped food packs, linerless labels are the perfect fit.
Hub began to look for additional ways to reduce their carbon footprint. As a result, Hub Labels' updated their sustainability policies. The business hasn't looked back, and hopes to become landfill free in the near future.
TLMI Project LIFE certified
In 2012, Hub Labels became Project L.I.F.E. certified. The Tag and Label Manufacturers Institute, Inc. (TLMI) is available to members and encourages cost-effective ways to reduce, reuse and recycle. As a result, label converters share successes, while proving sustainability doesn't break the bank.
As a result, Hub formed an employee-led sustainability team. The team creates, implements and manages all sustainability projects. Moreover, all data is tracked including energy consumption, waste, water usage, and dollars. The collected data is shared with employees. This not only educates employees, but also empowers them.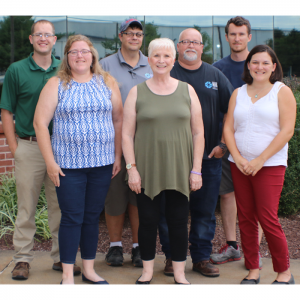 With the data, people can see the real impact of their efforts. This allows employees to identify new projects to further reduce the carbon footprint. The employee-led team transformed business at Hub Labels. Waste significantly reduced. All policies are viewed through a sustainability lens. Best practices exist to reduce energy and water usage.
Tracking Sustainability
Since 2010, Hub labels measures waste elimination, cost savings, and employee engagement. As a result, waste sent to landfills has significantly reduced. The impact of the program includes:
Sustainable labels policy impact & Statistics:
Materials recycled totaled 348,663 lbs in 2013.
Created program to recycle press inks, toner, and cell phones through Evolve Recycling.
Plate material recycled totaled 17,990 lbs since 2012.
Paper usage was also reduced from .493% to .382% from 2010 to 2012.
Electrical consumption reduced from 80.05 feet/kWh to 82.10 feet/kWh. Overall, this was a 3% reduction in 2012.
After Rinse Water Recirculation system was installed in 2012, which resulted in 14,495.7 gallons of pure water saved per year.
Water bottle filling station saved more than 1,000 pet bottles of water and reduced plastic consumption, too.
Label Leaders
Other nominees included the Habitat for Humanity Restore and Hempen Hill BBQ Bar & Grill. In total, 152 businesses and people were considered for the "Going Green" award. The black-tie optional event included over 530 guests. Hub Labels is grateful to be recognized as a sustainability label leader.
"Hub Labels believes we have a duty to make the world better", states Thomas Dahbura, owner of Hub Labels. "Employees are encouraged to think about their own carbon footprint. To make change in small ways. Those efforts add up. When people do their part, amazing things happen. Recognition is great. However, we do it because it's the right thing to do."