100% Landfill Free Label Manufacturer
Hagerstown, Maryland | September 17th, 2019 – Hub Labels, Inc, a leading custom label manufacturer, announced on Tuesday, September 17th, that they are 100% landfill free, a rarity in the label industry. Through a partnership with Entsorga in Martinsburg WV, Hub Labels now converts all their waste into clean burning alternative fuel called solid recovered fuel or SRF.
"Being landfill free has been a long, difficult road", commented Nink Myers, purchasing manager at Hub Labels. "It was a project that took off in 2009 when we introduced linerless labels to the United States market. We love that this revolutionary label has zero liner waste compared to a traditional label." With the partnership between Hub Labels and Entsorga, Hub was able to install a monitoring system to trigger a notification when their compactors are 75% full so the waste can be hauled away on a full truckload. Each haul is between 8 ½ to 10 tons of waste. The waste is taken from the Hub facility down to Entsorga, where it is turned into alternative fuels. The energy created is used as a replacement to fossil fuels, which in-turn powers large co-processing facilities such as cement plants and steel mills.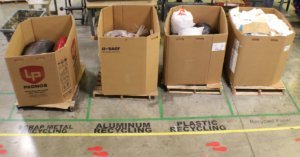 Partnering with Entsorga to convert their waste into fuel is only the latest accomplishment in going green at Hub Labels. In 2010, Hub started an 18-month journey to become Project L.I.F.E. certified by reviewing and implementing more sustainable business practices. Since then, Hub Labels has been recognized in the community with numerous environmental leadership awards. In 2015, Hub Labels purchased a Chevrolet Volt to use as the company vehicle and installed a charging station at their headquarters in Hagerstown, Maryland. Earlier in 2019, Hub Labels invested in a corrugated shredder to repurpose cardboard into packing materials and reduce the need for bubble wrap with their shipments.
"Doing the right thing isn't always the cheapest and easiest way to run a business", mentioned Thomas Dahbura, President of Hub Labels. "We didn't force ourselves to completely transition to be landfill free overnight. It's been a long-haul, but we never lost sight of our goal to become landfill free. When we learned Entsorga was opening their doors in West Virginia, we began talks with them to see if they could use our waste and turn it into renewable energy at their facility. We finally found a great fit to help us reach our goal and become landfill free."
Hub Labels, Inc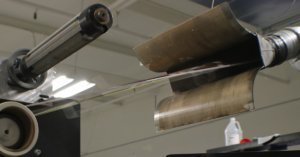 has been at the forefront of advances in the label printing manufacturing industry, having been among the first to introduce four-color process, computer-to-plate technology, digital printing, servo-driven presses, and linerless labels among many other innovations. The existing print facility located in Hagerstown, Maryland has been expanded over four times to its present size of 110,000 square feet and more than 20 presses in-house.
Hub Labels is a certified member of Tag and Label Manufacturers Institute's (TLMI) L.I.F.E. program (Label Initiative for the Environment), a sustainability program designed specifically for the label industry. This green program demands that members constantly decrease their environmental impact and carbon footprint in four key areas: clean production, energy and greenhouse gases, product design, and management practices. More information about the L.I.F.E. program can be found on their website. Hub Labels is also currently working towards the SGP certification which is a leading non-profit accreditation organization that promotes sustainability in printing practices and manufacturing operations.
If you would like more information about this topic, please call Hub Labels at (301) 790-1660 or email info@hublabels.com