Ask the Label Guru Any Label Question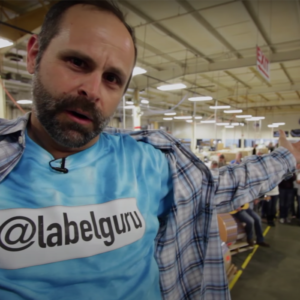 Have label questions? The Label Guru has answers! We are experts in linerless labels and pressure sensitive labels. We cover a range of topics from PS label basics to complex label printing topics. Email us at marketing@hublabels.com and let us know what topic you want to see covered.
Hagerstown, MD | April 23, 2019
Hub Labels introduces the Label Guru in a fun video to promote Linerless Labels for skin pack trays.
So, what are linerless labels? These innovative labels are designed for high volume manufacturing and processing food lines. This includes the meat, poultry and seafood industries which utilize skin pack trays packaging. In addition, secondary markets include fresh produce, convenience and desserts.
Linerless labels are the perfect solution for any packaging without a flat surface. Traditional pressure sensitive labels do not apply well to skin pack trays that are popular in the protein industries. However, linerless labels are the perfect fit. Linerless labels wrap around the tray and the food profile. In effect, this solves the problem on how to label a non-flat surface by conforming the label to the packaging profile. In contrast, pressure sensitive labels wrinkle and can be hard to scan for retailers.
Label Guru explains linerless Labels
Linerless labels for skin pack trays have been popular in the UK and Europe for many years. With over 12 billion+ applied annually, linerless labels and sleeves bring high-end packaging solutions with a variety of application styles.
This includes full-wrap applications and c-wrap applications, as well. A label applicator, such as the
Marel M360
, is required for application and can include a unit to do catch-weight printing, too. Our linerless labels work in all the major equipment providers and we will work with your team to ensure your line is setup to run at optimal capacity.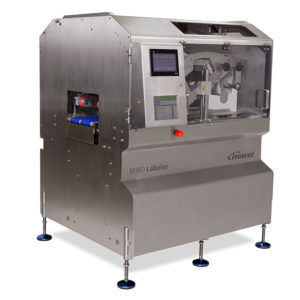 Linerless labels are available in silicone coated paper, board or synthetic material. Standard linerless labels deliver a semi-adhesive label format which adhere to a tray pack through a series of technically placed glue strips. Label material is supplied without carrier backing paper, also known as a label liner. As a result, reel weight is reduced by up to 40%! Therefore, more labels fit on a roll and fewer reel changeovers are required. Moreover, that means less downtime for production lines and an increase in productivity, too. Additionally, less reel weight equates to a reduction in freight charges. Ultimately, less room is needed for label storage, as well.
Retailers Love Linerless
Retailers love linerless labels because they deliver consistency on the shelf and look good. Moreover, the premium packaging carries a higher value for consumers. This results in more sales, more revenue and more happy customers. Also, this full-wrap label creates a 360° billboard for brands. Not only is surface print area increased, but backside printing is available. This value real estate allows for you to deliver all required FDA content to consumers, but also build your brand's story.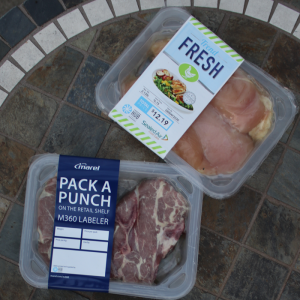 Consumers love linerless
Consumers love linerless labels and the premium packaging look. The PET tray is wrapped with a label that allows a consumer to view the contents within the tray. This creates confidence that the food is edible and looks appealing, too. In addition, many PET trays are recyclable. By investing in the latest packaging technologies such as vacuum skin packaging (vsp), food lasts longer and food waste is reduced as well.
Linerless Label Benefits Include
Zero backing paper waste
40% less reel weight compared to self-adhesive labels
More labels on a reel
Fully automated application speeds of up to 180 packs per minute
Fewer reel changes, less downtime
Consistency of format on-shelf
Increased surface print area
Tamper evident
For more information, contact our Linerless Label team linerless@hublabels.com.
Meet the Label Guru