Hub Labels Receives SHARP Certification with Pomp and Circumstance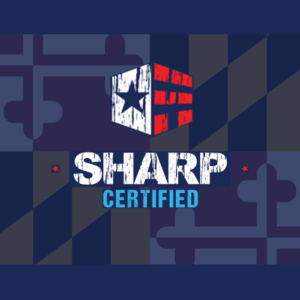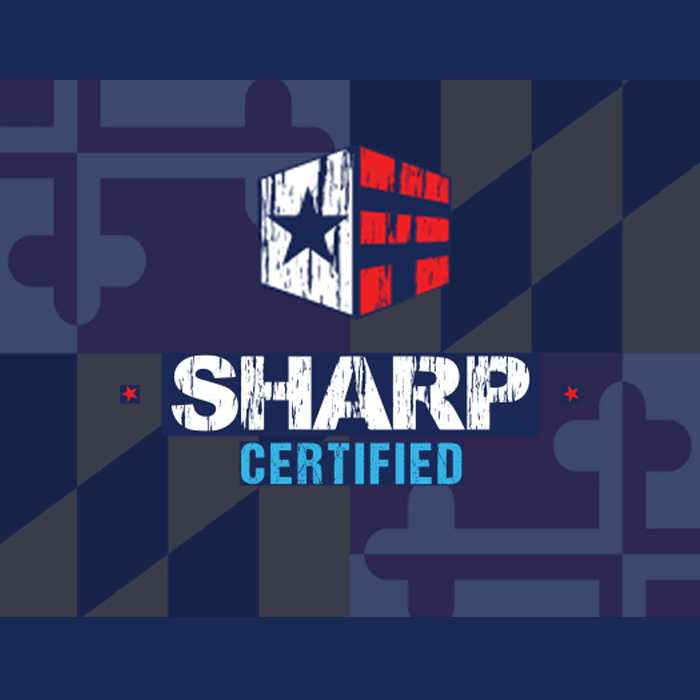 Photos courtesy of the Governor's Office and Chief Photographer Joe Andrucyk.
Hagerstown, MD [October 15, 2019] – Hub Labels was honored on Friday, October 11th, by representatives from the Maryland Occupational Safety and Health, a Division of Labor and Industry, for becoming the fourth business in the state of Maryland to receive the Safety and Health Achievement Recognition Program (SHARP) certification. SHARP is a recognition program for smaller, high-hazard employers who operate exemplary safety and health programs. Steve Lakin, the Deputy Commissioner of Labor and Industry, presented the SHARP certification to Hub Labels President, Thomas Dahbura; original founder, Mary Dahbura; and Quality & Continuous Improvement Director, Jesse Hood.

"The Maryland Occupational Safety and Health (MOSH) division was instrumental in helping Hub Labels achieve the SHARP certification", stated Thomas Dahbura. "When we reached out to MOSH to start the process of becoming SHARP certified, we found out that there were only three other businesses in the state of Maryland with the certification. We knew it would require a team effort and be a huge undertaking for us. It took us just over two years to become SHARP certified. It really is a testament to the Governor's mission to balance the private-public relationship. The Maryland Occupational Safety and Health division has been fantastic helping us get through this process. Their team is doing outstanding work and they were key to helping us achieve our goals. We are also grateful to the World Class Consortia as they have been very instrumental to helping Hub Labels learn more about lean manufacturing which has allowed us to become the company we are today."
The celebration featured remarks by Governor Larry Hogan, who was among the honored guests. "This is an exciting achievement for Hub Labels, Hagerstown, Washington County and the state of Maryland", declared Governor Hogan. "One of the best things about my job as Governor is seeing homegrown businesses succeed, especially companies that have shown such loyalty to the state of Maryland. Hub Labels is always thinking bigger and pushing harder to better serve their customers. It should come as no surprise that this great family owned, Maryland business, recently became the fourth business in the state of Maryland to pass through the rigorous standards to become SHARP certified. Hub Labels is part of an elite group of small businesses which are recognized for creating a positive work culture, for attracting skilled workers and for developing innovative safety and health programs."
Other state and local officials were also among the honored guests, including Delegate William J. Wivell, Delegate Neil Parrott and Delegate Mike McKay, as well as Washington County Commissioners Jeffrey Cline and Randall Wagner. Paul Frey, CEO and President of the Washington County Chamber of Commerce was also in attendance.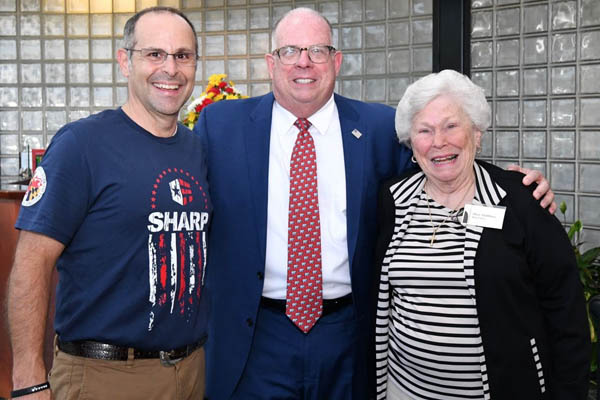 Thomas Dahbura expressed his gratitude for all his guests, but especially for his parents and their key role in driving the success of the company. "We are truly a Maryland company. My parents, Mary and Bud Dahbura, started this company in 1978. My mom would run the company during the day and dad would work his daytime job at Pangborn, come home to eat dinner, and then print labels in the evening. Family, community and innovation was always valued and encouraged by my parents. That axiom became the heart of Hub Labels."
Hub Labels, Inc has been at the forefront of advances in the label printing manufacturing sector, having been among the first to adapt the four-color process, computer-to-plate technology, digital printing press, servo-driven presses, linerless labels and many other innovations. Their digital printing press produces a 1200 print resolution with a 7-color extended gamut that achieves the highest quality in the label printing industry. In January 2019, Hub Labels announced that they are G7 and GMI certified which shows their expertise in color matching and print quality. The company also announced in September that they are 100% landfill free, a rarity in the label industry.
To learn more about the Maryland SHARP program and Maryland Occupational Safety and Health division's consultation service, visit the Maryland Department of Labor, Licensing and Regulation.