Celebrating 10 Years in Linerless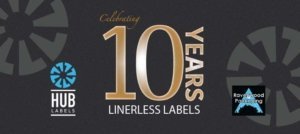 Hub Labels, Inc was the first to introduce the Ravenwood Packaging Linerless Label Solution to the United States in 2009. Ten years later, Hub Labels has seen tremendous growth in the linerless market as companies seek ways to increase sustainability and efficiency advantages.
When Hub Labels, Inc decided to incorporate linerless labels into their portfolio, the label was unproven in the North American market but was a great success in Europe for years. Thomas Dahbura, president of Hub Labels, Inc, saw the potential for the technology and its ability to provide a "green" label solution, as linerless labels produce zero waste during the die cutting process and there is no liner backing to end up in a landfill. Linerless labels are made by strategically placed adhesive strips on the underside of the label. To ensure the labels do not stick together when placed on a roll, the label face has a release coating that prevent the labels from sticking to one another. In the application line, the labels are guillotine-cut before being applied to the package.
No liner also equates to:
• Less reel weight
• Reduced shipping costs
• Reduced inventory space
• Less materials needed when producing labels
• Reduced down-time due to roll changes
• Elimination of downtime due to troubleshoot liners breaking and tension points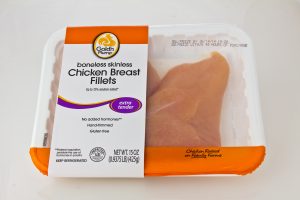 Traditionally, a product may have multiple labels including a face label, a bottom ingredients labels, and additional store labels. These labels cover up what is being purchased and get plastered all over a package haphazardly. By going linerless, more of the product can shine through the packaging and can increases confidence that a product is fresh and healthy for consumption. Interestingly, this one label approach has also increased the marketing potential of a package. Labels are no longer restricted to the top and bottom of the package and can now wrap entirely around a product to create a 360° brand that can be seen on the shelf no matter how it is displayed. There is also the additional benefit of having the ability to print on both sides of the label (reverse-side printing) which increases the brand's ability to connect to a consumer.
Some of the advantages of linerless labels include:
• Full color, high-end graphics
• Option to print on the back side of the label (reverse-side printing)
• Less waste due to no liner, no die cut waste and optimum adhesive placement
• No wet glue in production
• Less risk to slip-fall injury from liner waste
• Thermal transfer variable print ability (such as bar codes, weights, price and item name) at time of application
Linerless labels have proven to be a great solution for the protein sectors, including meat, chicken and fish but as consumers demands has shifted towards more healthier options and on-the-go packaging, linerless has seen a boom in produce and bakery goods. Linerless labels are now found in every supermarket across the United States and Hub Labels, Inc continues to be at the forefront of the linerless revolution.