Employee Spotlight: Mark Smith, Lead Estimator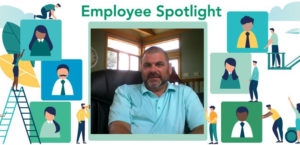 [July 7, 2020] – Hub Labels is excited to share our new "Employee Spotlight", which features an interview with one of our employees here at Hub. Our first July 2020 "Employee Spotlight" features an interview with the one and only, Mark Smith, our lead estimator who has been a part of our team since April 2009. Colin Viti, our marketing coordinator, sat down with Mark and asked him a few questions about his experience here at Hub Labels.
Mark, you've been at Hub a long time, just over 11 years. What is the most memorable moment you've had while employed?
"One of the most memorable moments was last October when the Governor of Maryland, Larry Hogan, came to visit our plant to celebrate our S.H.A.R.P Certification. It was quite an honor to meet him, along with being a part of the company that achieved that title of being SHARP Certified. More recently though, the most memorable "moment", and will always be the indelible mark of my time here at Hub, was this pandemic and how we as a company have pulled through this so far. It was thrust upon all of us so unexpectedly and we were quickly thrown in to situations that were out of our comfort zones, ones we have never experienced before. The teamwork I've experienced in all facets of the business has been what I will never forget." 
You see a lot of labels and get to be a part of the process from beginning to end. What is your favorite part about what you do?
"I love seeing new jobs pass all the way through the plant; to see a finished product and hearing that our customer's expectations were exceeded is why I come to work every day."
Over the years, I'm sure you've seen lots of change here at Hub Labels. What change has made the biggest impact to how you operate day to day?
"Oh geez, without a doubt back in 2014 when we installed the Ef/Radius platform. This software changed the way we operate. The main purpose of the Ef/Radius platform is to measure the shop floor data. This allows us to better evaluate our true costs of the jobs we produce. Before this system was implemented, my job was very tedious. I'm so thankful we work for a company that continues to invest in the latest technologies!"
"Thanks for your time Mark!"
To learn more more about how Hub Labels SHARP Certification, you can read more about the event on our blog.