Hub Label wins TLMI 2021 Elevation Award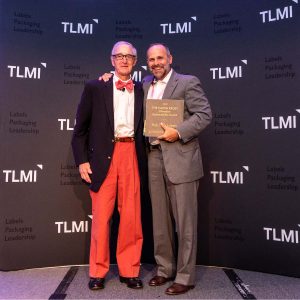 Hub Labels, Inc has been recognized as the 2021 winner of the TLMI Calvin S. Frost Elevation Award. This is the second year in a row and third time overall that Hub has won the Elevation Award. The TLMI Calvin S. Frost Elevation Award is one of three awards, alongside the Trailhead and Journey Award, that make up the TLMI Frostie Awards. The TLMI Frostie awards are an eponymous tribute to one of our industry's most respected sustainability thought leaders and longtime member, Calvin Frost of Channeled Resources Group.
"Since 2002, the TLMI Sustainability Leadership Awards have recognized association converter and supplier members who have consistently demonstrated a commitment to progressive sustainability practices across a range of areas including solid waste reduction, recycling, waste or energy recovery, the implementation of new 'clean' technology and/or processes and the implementation of an educational program," Said TLMI.
"The Elevation Award is given to a TLMI member company with sophisticated in-house sustainability programs and that are making a significant industry impact. As a previous TLMI Sustainability Award winner, the judges were extremely impressed by how Hub continues to raise the bar on best practices. The company is currently landfill-free, has a robust recycling program as well as a unique company-wide program Hub refers to as 'Random Acts of Green'."
Thomas Dahbura, President of Hub Labels, said "It is a great honor to have received this award for a second year in a row, especially during a window in which we've all had to work so hard together. I'm grateful that my team has continued to stay committed to sustainability excellence and have been recognized for it."
ABOUT HUB LABELS SUSTAINABILITY INITIATIVES
Hub Labels went 100% landfill free over 2 years ago in 2019. This was a huge accomplishment that took a lot of teamwork, planning, collaboration, and hard work across the entire company to pull it off. The plan is to keep finding more ways to improve our sustainability practices in new and innovative ways.
Currently these efforts include searching for new environmentally responsible material options to provide to our customers. Also developing manufacturing practices that are environmentally friendly like using corrugated cardboard to replace bubble wrap in packaging or using eco-friendly water-based inks.
We are also continuing to push for new innovative packaging technologies such as our linerless label technology which reduces overall liner waste by 50%. We even have a new Chevy Bolt company car on campus for employee use! We are always looking for more ways to improve our sustainability practices and find new and interesting ways to keep getting better.
Read more about the Calvin Frost 2021 award winners here.