The DMAW Bridge Conference of 2021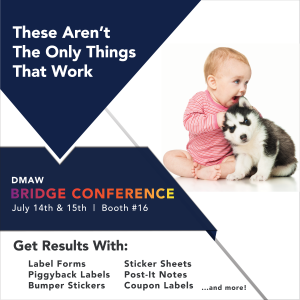 Hagerstown, MD | July 5, 2021 — Hub Labels has announced that they are attending the 2021 The Bridge Conference virtual event. The annual event is a staple of the fundraising industry hosted by the Direct Mail Association of Washington DC (DMAW). The 2-day conference is scheduled for Wednesday, July 14 and Thursday, July 15.
The conference serves as a career-enhancing experience where industry experts discuss the latest in integrated marketing and fundraising. In addition, the educational program shares the latest strategies, techniques and innovations in direct response and major donor fundraising. The event is expected to draw over 2,000 attendees. Furthermore, guests can expect two keynote speakers and 60 breakout sessions.
Hub Labels invites attendees to meet our resident direct mail guru, Don Andersen, at our virtual booth #16. At Hub Labels, we know that babies and puppies aren't the only thing that increase donors and drive results. Furthermore, our direct mail solutions are proven effective methods to standout and meet campaign goals. We work with agencies, mail shops and non-profits. Our successful campaign premiums drive results. Labels are a cost effective way to deliver personalized messaging that donors love. As a result, campaigns featuring labels and stickers continue to be the best method to reach your audience.
Your Direct Mail Toolkit includes:
Label Forms
Piggy Back Labels
Bumper Stickers
Sticker Sheets
Post-It Notes
Coupon Labels
MICR Inks
When planning your next fundraiser campaign, call Hub Labels for the latest ideas and trends in direct mail. To register to attend this year's Bridge Conference, visit the DMAW website.