Raising the Bar for Workplace Wellness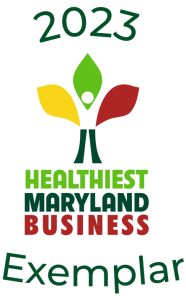 Each year, the Maryland Department of Health Center for Chronic Disease Prevention and Control recognizes the Healthiest Maryland Businesses, and Hub Labels is honored to be part of their selection for 2023. This initiative was created by the Maryland State Health Department to aid in increasing the health of businesses across the state of Maryland. The Healthiest Maryland Businesses initiative encapsulates a collaboration of businesses who all share a common goal: encouraging a focus on health and wellness among their employees. By developing and promoting a healthy environment at work and putting their employees' wellbeing at the forefront, it will inspire their teams to make healthier choices and prioritize their wellness outside of the office as well.
This year, Hub Labels is proud to be part of the select few companies receiving the Exemplar Award for the Healthiest Maryland Businesses selection for 2023, a step up from last year's Pacesetter Award recognition! According to the Maryland Department of Health, the Exemplar Award acknowledges businesses that have established wellness practices within their workplace and strive to promote a culture of health throughout the organization! Businesses who have earned the title of Exemplar address health and wellness through all four strategies: policy, programming, benefits, and environmental support, while also evaluating their wellness initiatives to gain feedback and adjust where needed for future success in wellness planning and programs. Thomas Dahbura, Owner/President of Hub Labels, speaks on what it means to be considered an Exemplar company. "It means that I value my employees' health and wellness first and foremost!" Dahbura advocates for his employees to be their best selves, and his vision of a culture of wellness in the workplace has helped do just that. 
Hub Labels has always viewed employees' health and wellbeing as an integral part of the business and its number one priority. Throughout the years, Hub Labels has continuously made improvements to better its culture of wellness to fit the team's needs. Throughout the years, Hub Labels has taken part in the Healthiest Maryland Businesses program, backing Dahbura's vision to create and maintain a successful wellness program at Hub Labels. The wellness program is spearheaded by a committee, who meet regularly to educate and encourage others on health topics while developing wellness initiatives for fellow employees! Hub Labels is constantly adapting to feedback from employees to make the wellness program more beneficial for them! Since being part of the Maryland Healthiest Businesses program, Hub Labels created, and continues to improve, an on-site fitness room. Over the years, free weights, an elliptical, a treadmill, and the Peloton app have been added for employees to choose a workout that works for them. Not only is the Peloton app useful for several kinds of workouts, but Hub Labels has also utilized the app for weekly morning meditations. By incorporating meditation into the workday, employees get a chance to step away from their fast-paced work environment and relax their mind and body. Hub Labels recognizes that, along with the physical health of employees, mental health is just as important. Mental Health First Aid Training was offered to managers and employees twice within the past year. This taught them how to assist individuals who are having a mental health crisis or substance use challenge. Employees also have the opportunity to get their blood pressure taken monthly onsite from a local medical center Hub Labels has partnered with. The wellness committee has worked diligently to help enhance the health of coworkers and adapt to the feedback they receive from initiatives. 
The Healthiest Maryland Businesses program provided Hub Labels with numerous ideas and feedback on the ways that employees' health and wellbeing can be improved. By adjusting our business culture to encourage a healthier lifestyle for our employees, we are making a difference in their lives inside and outside of work. The wellness committee, and all initiatives that are planned, consistently stand by Dahbura's belief that the safety and wellbeing of employees are the number one.