Maryland Strong: Back to Business Pledge

Hub Labels President Thomas Dahbura joined with the Maryland Department of Commerce Secretary Kelly M. Schulz to announce a partnership to support the safe reopening of businesses as the state continues to recover from the COVID-19 pandemic. Hub Labels is working with Maryland Commerce to produce 10,000 window clings that businesses across the state can display that feature the Maryland flag and the words "Proud to be Safely Open. Maryland Open for Business."
Secretary Schulz visited Hub Labels this week to watch the window clings, which are high-quality stickers that don't use adhesive to stay adhered to the glass, being produced at Hub Label's Hagerstown facility. The clings will be distributed to each of the state's 23 counties and Baltimore City so businesses can display them to the public, along with the Maryland Strong: Back to Business Pledge that can also be displayed.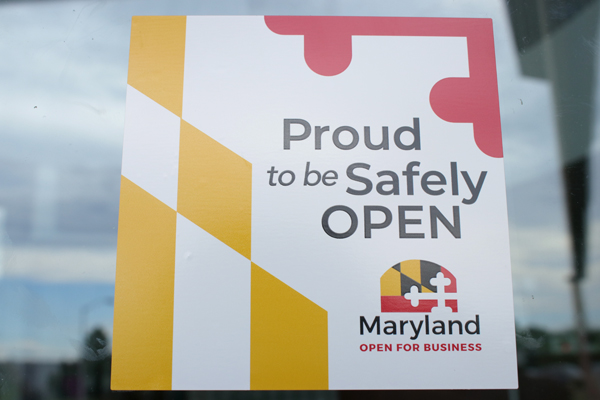 "We want to thank Hub Labels for their partnership as we continue to work with Maryland's business community to help businesses safely reopen," said Secretary Schulz. "These window clings, along with the business pledge, offer much needed assurance in knowing that a business is taking the steps to adhere to health protocols and offer a safe environment for customers."
"When Maryland Commerce approached us about producing these window clings, I went to my team and said we've got to help," Dahbura said. "Times are uncertain right now, for so many reasons, COVID-19 just being one of the factors. I want to make a difference, however big or small, to help our communities find a path forward to recovery."
About Hub Labels, Inc
Hub Labels, Inc is a manufacturer of pressure sensitive and linerless labels.  Hub is able to provide superior quality and service with our robust and modern fleet of flexographic printing presses, and a flexographic-digital hybrid Heidelburg/Gallus Labelfire press with expanded color gamut that is unmatched in the industry for image resolution and color.  Hub is dedicated to staying abreast of the latest packaging trends and building long term relationships with our customers, vendors and suppliers. But at the heart of Hub are the people, who are driven by five key principles: Safety, Sustainability, Innovation, Service and Community.
About Maryland Commerce
The Maryland Department of Commerce stimulates private investment and creates jobs by attracting new businesses, encouraging the expansion and retention of existing companies, and providing financial assistance to Maryland companies. The Department promotes the State's many economic advantages and markets local products and services at home and abroad to spur economic development and international investment, trade and tourism. Because they are major economic generators, the Department also supports the Arts, film production, sports and other special events. For more information, visit commerce.maryland.gov.