Maryland SHARP Certification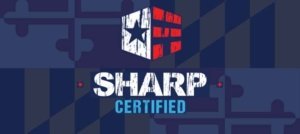 Hagerstown, MD – Hub Labels, Inc has been awarded the Maryland Safety and Health Achievement Recognition program (SHARP) certification, making it the fourth business in the state of Maryland to pass the rigorous standards needed to become SHARP certified. With this certification, Hub Labels has demonstrated a commitment and dedication to go above and beyond normal safety requirements through continual ongoing efforts.
"There were a total of 58 attributes that we had to ensure we followed and the path to certification took just under 1 year to achieve", commented Jesse Hood, Hub Labels Continuous Improvement and Safety Manager. "We are really proud of our employees and management who took the necessary steps to ensure Hub Labels is one of the safest places to work in Maryland. It required we look at everything, from our policies and procedures, to the labeling of every ink bottle. This was definitely a team effort."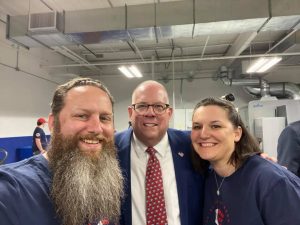 To tackle the SHARP certification requirements, Hub Labels worked with MOSH to help ensure all requirements were met. This included an industrial hygienist and a general hazard analyst who brought any and all safety concerns, no matter the size, to the attention of management to ensure any issue was addressed. "It was a rigorous and long process but so worth our efforts. My crew really stepped up their game and were open to the process of examining how we do business and making improvements to ensure we met this goal to become SHARP certified", says John Potterfield, the Operations Manager at Hub Labels. "We asked each of our employees to be involved in this process and they continue to be involved in our ongoing efforts to ensure every employee and visitor is safe when they enter our printing press facility." In fact, 15% of all Hub Label employees are involved in the safety committee who meet on a monthly basis ensure safety is always top-of-mind.
Hub Labels, Inc has been at the forefront of advances in the label printing manufacturing, having been among the first to introduce four-color process, computer-to-plate technology, digital printing, servo-driven presses, linerless labels and many other innovations. Hub Labels, Inc produces 1200 print resolution with a 7-color extended gamut that achieves the highest quality in the print industry. Hub also is celebrating being G7 and GMI certified which shows their expertise in color matching and print quality.
To learn more about the Maryland SHARP program and MOSH consultation services, visit the Maryland Department of Labor, Licensing and Regulation website.