Maryland Label Manufacturer Leadership Award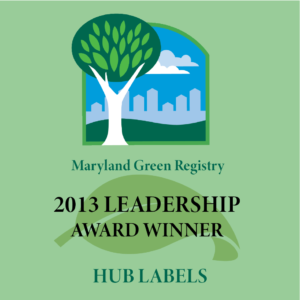 Maryland Label Manufacturer Wins Leadership Award. Sustainable business practices and efforts gain recognition.
Hagerstown, MD | June 11, 2014
Hub Labels won the 2014 Leadership Award from the Maryland Green Registry. The custom label printer's ongoing sustainability efforts are impressive. Hub Labels tracks all electrical, water and carbon emissions. Thereby, they are able to target specific areas for improvement. Furthermore, Hub Labels leverages employees to led the projects. As a result, their efforts have gained recognition in the region.
Guests attended a ceremony at The Courtyard by Marriott in Chevy Chase, Maryland. For their efforts, the label print facility received top honors. Hub Labels shares their sustainability journey at every opportunity.
"Sustainability is a journey", states Nink Myers, purchasing manager at Hub labels. "No journey is ever the same. We need to celebrate one another's wins. We get excited about sustainable business practices. As a result, we want to share our journey. Furthermore, we want to hear what other manufacturers are doing. Small changes add up. Small changes turn into big wins. Sustainability is not an all or nothing approach. Undoubtedly, we are all on different points in our journey. "
Maryland leaders appreciate Hub Label's willingness to share their journey.
"This award honors the highest level of commitment to environmental stewardship", states Secretary Robert M. Summers, Maryland Department of the Environment. "Hub Labels has a commitment to sustainable business practices. They demonstrate the leadership that Maryland needs to build a sustainable future."
Maryland Label Manufacturer Leaders
Hub Labels is active in Maryland manufacturing. The facility is a member of the Maryland World Class Consortia (MWCC). The MWCC helps manufacturers grow through performance excellence. For this reason, Hub Labels leverages lean and six sigma business practices to meet sustainability goals. Every year, an employee-led team identifies several sustainability projects.
In addition, Hub Labels also was awarded the 2014 Going Green Business Award from Washington County, Maryland. Undoubtedly, their efforts have paid off.
"We consume a lot of paper and PET materials", states Thomas Dahbura, owner of Hub Labels. "Undoubtedly, labels produce waste. However, we don't ignore this reality. Our commitment is to manufacturer labels responsibly. For this reason, continuous improvement and lean manufacturing practices drive our actions. We identify sustainability projects that are a win-win. Thereby, our carbon footprint is reduced, as well as our costs. We are proof that sustainability doesn't always cost more."
Hub Labels reduces waste a number of ways. Properly calibrated label presses produce less label waste. Also, LED bulbs replace regular bulbs. In addition, water bottle filling stations are available for use. Furthermore, recycle bins are throughout the facility. No project is too small. Therefore, sustainability is incorporated into daily life at Hub Labels.
Tracking Sustainable results
Hub Labels measures and tracks efforts to reduce, reuse and recycle. In 2013, the company reduced their electricity usage to 305,163 kWh. In addition, water usage was reduce by 17,135.5 gallons. Label waste was reduced to 347,560 lbs. Also, another 575,762 lbs of label substrate was recycled. As a result, Hub Labels saved $13,679 from 2012-2013.
"Hub Label's employees are the real hero", states Dahbura. "Our employees identify our annual sustainability goals. Therefore, the honor goes to them. Thanks to the team's hard work, we continue to be recognized as sustainability leaders. A huge thank-you to my entire Hub family. Furthermore, I encourage any business owner to get employees involved. Through transparency and ownership, employees are the real difference makers."
Future projects include an effort to be a landfill free print facility. Additionally, Hub Labels is considering a hybrid company vehicle.
About maryland green registry
Maryland Green Registry Leadership Award winners represent a variety of manufacturer types and sizes. Members share several key factors that contribute to their success. First, an organization-wide commitment to environmental performance. Secondly, a sustainability team who meet on a regular basis. Finally, environmental goals and measurement of results.
The Maryland Green Registry is a voluntary program. We promote and recognize environmentally sustainable practices in organizations throughout Maryland. Visit the Maryland Green Registry to see past winners.