Hub Labels Acquires New Linerless Adhesive Coater from ETI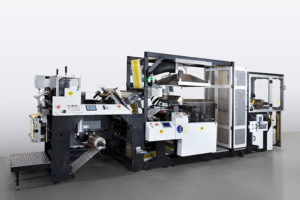 Hagerstown, MD [June 2, 2020] Hub Labels, a market-leading label manufacturer located in Hagerstown Maryland, is pleased to announce the recent acquisition of a new silicone & hot melt adhesive coater from ETI Converting Equipment to support the linerless label market segment. Hub Labels is the only print facility in the United States to have two silicone & hot melt adhesive coaters to create linerless labels which are ideal for skin pack trays. The second coater provides additional security for their linerless customers through machine redundancy, increased flexibility and market leading technology to deliver superior linerless labels.
"Hub's original coater was purchased in 2009 when Hub Labels partnered with Ravenwood Packaging to install the first linerless label coater in the United States, introducing the linerless technology from the UK," stated Jesse Hood, Hub's Quality & Continuous Improvement Director. "It has been 10 years since the original coater was purchased. We had specific challenges we wanted to solve with a new coater. The equipment by ETI did just that."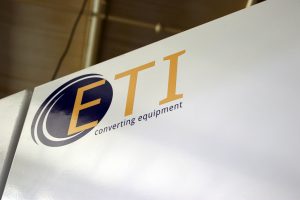 "After spending time with Hub Labels in their facility and learning more about their linerless label operation, we believed ETI could improve the overall quality and productivity of their coating line," commented Richard Hoffmann, ETI's United States Sales Manager.  "ETI adapted its industry leading cohesion technology to specifically address coating weight, coating uniformity and finished roll quality." ETI incorporated its pattern hot melt adhesive roll coater technology in line with its direct roll silicone coating station for this linerless label application. The existing coater uses multiple slot dies to apply stripes of adhesive. The ETI adhesive coater can apply stripes of adhesive, as well as any pattern or shape in register with printing for other linerless label applications. The new coater produces more uniform adhesive stripes and a more controlled coat-weight across an entire job. Hub also found that the slot die system of their original coater can have a tendency to drag and build-up adhesive which can leave a glob of glue on the web. This new ETI coating technology reduces both jamming and adhesive build-up on customer's linerless applicators.
To test the new coater, Hub Labels partnered with Shenandoah Valley Organic (SVO). SVO saw the difference right away with the new label rolls. "You can actually hear the difference as the glue stripes release more easily from the silicone stripes as the labels pull through our Ravenwood label applicator," stated Rich Baughman, Director of Technology at SVO. "We've worked with other linerless manufacturers in the past, and typically we end up throwing a portion of our labels away because as we got closer to the core, there would be too much adhesive and the labels would not release from the silicone. The adhesive is much more even on the rolls and results in less waste. There is also no build-up of glue on our equipment guillotine, which equates to an increase in efficiency due to less downtime. It has been a huge success for our production team."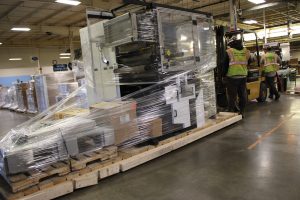 Hoffmann adds, "When we heard Hub Labels' customer was very pleased with the quality of the finished rolls coming off our coater and how well they worked with their label applicator, we were thrilled!" The new equipment features a coat-weight monitoring system that can read both film and paper substrates. The monitoring system also allows for a specific recipe to be created for each customer and job so the precise coat-weight that is demanded for each application can be easily met. The new coater uses the same silicone and adhesive as the original coater to ensure there are no unforeseen issues due to unknown materials.
"The labels produced by the new ETI coater are incredible," states Thomas Dahbura, owner of Hub Labels. "The ETI coater uses less silicone which is now barely seen on top of the artwork compared to the thicker, glossy silicone stripes from the original coater. We've also found that the rolls produced are extremely flat which equates to no more jamming of linerless applicators and no waves in the label rolls. Here at Hub, we are always looking for ways to do better, be better and thrill our customers. We will continue to reinvest in our company, to expand our capabilities and deliver beautiful custom labels."
About ETI: ETI Converting Equipment designs and builds custom-engineered web converting, printing and coating equipment used in the manufacturing of pressure sensitive label products, as well as linerless labels. Its patented technologies create a more efficient production process and depending on the application, substantial material costs savings for its clients. ETI is recognized worldwide as a leader and pioneer in helping to develop and bring to market environmentally friendly labeling solutions.
About SVO: Shenandoah Valley Organic (SVO) was founded in 2014 by Corwin Heatwole, a life-long farmer who wanted to revolutionize his industry by creating a process that ensures farms are sustainable and profitable for the next generation. Headquartered in Harrisonburg, VA, SVO is an organic meat company that prides itself on treating farmers with dignity and respect, as well as having the highest standards for raising animals. Through SVO's Farmer Focus Business Model, farmers are true partners: they receive fair compensation for their hard work and have the freedom to make decisions for their own businesses. SVO's deep commitment to farmers, animals, and environmental stewardship results in high-quality, clean label, organic products—ensuring a healthy source of nutrition through the most humane, clean, and safe processes possible.
About Hub Labels: Hub Labels, Inc is a manufacturer of pressure sensitive and linerless labels.  Hub is able to provide superior quality and service with our robust and modern fleet of flexographic printing presses, and a flexographic-digital hybrid Heidelburg/Gallus Labelfire press with expanded color gamut that is unmatched in the industry for image resolution and color.  Hub is dedicated to staying abreast of the latest packaging trends and building long-term relationships with customers, vendors and suppliers. At the heart of Hub are the people, who are driven by five key principles: Safety, Sustainability, Innovation, Service and Community.