Esko Visit: LED Plate Exposure, Crystal Screening, and PCW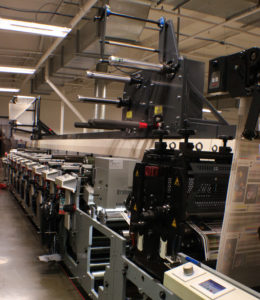 Hagerstown, MD [July 29, 2020] In July 2020, a team of employees from Esko took a trip to Hub Labels, located in Hagerstown MD, for a 3-day visit at Hub's 110,000 square-foot label converting print facility. Hub Labels recently installed the latest state-of-the-art CDI Crystal Plate Imager and XPS Crystal LED plate exposure technologies. To manage this hardware, Hub Labels also installed advanced software from Esko known as "Print Control Wizard" (PCW). This establishes Hub among one of the few UV Flexo Label Printers in North America with LED Plate Exposure, Crystal Screening and PCW.
The reason for the visit was two-fold, as Mark Samworth, Esko Flexo Color Specialist, explained, "Esko is committed to assuring Hub gets the best results possible. Doug Benham, Esko Flexo Implementation Specialist, and I teamed up to make that happen. But to be honest, while assisting Hub was my #1 goal, I did have a hidden agenda. I wanted to get some real-world experience seeing how the products performed in a production environment. I wanted to learn from Doug, as well as from the team at Hub. Additionally, two top-notch players from the Mark Andy team, Cheryl Cole and Jim Schulz, were in attendance. They both know DuPont flexo plate technology inside-out and are experts on press variables like ink, anilox and sticky back. I wanted to take the opportunity to learn from them as well. Hub Labels is a grade-A label printer. From the architecture of the building, to the equipment on the shop floor, the software in prepress and the competence of every employee we worked with; Hub is a class act. I couldn't think of a better place to spend the week. Even the lunches were delicious! As mentioned previously, I wanted to get some real-world experience with Esko's state-of-the art technology. Hub Labels was the perfect location."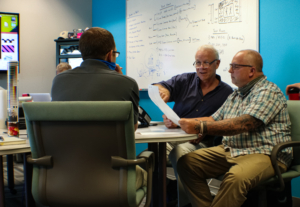 Thomas Dahbura, Hub Labels Owner and President, added, "This was the first initiative we kicked off [during the COVID-19 shutdown], so it was exciting that we were doing in-person collaborations again [after lifting restrictions]. Exciting because it was innovative and awesome to collaborate with some of Esko's brightest people. I can't give all the credit to ESKO though; one of the silent champions for Hub has always been Cheryl Cole for bringing this technology to Hub and for always being one of our champions. She doesn't get enough kudos from me and the team. The crystal screening takes our HD flexo to the next level, and along with eliminating Mercury UV bulbs for the curing and going Digital LED, the bar has been raised for consistent plate making at a higher level of quality. I'm really thrilled at the quality we deliver and how this technology will enhance the labels we produce."
"The visit was an enormous success", remarked Samworth. "We achieved 'near perfect' print quality and 'near perfect' proof to press match following the Esko procedures straight from the book. On flexo color test forms, most people either don't include images or include images that have been retouched for flexo. On the color test forms I made for Hub, I included only offset images downloaded from the Idealliance G7 web site. We did no retouching at all – leaving all the dropouts and fades to zero (the killers of flexo color) in the images. We wanted to see if screening these files with Esko Crystal Screening, imaging the plates on the new Crystal CDI, and exposing the plates on the new Crystal XPS LED based plate exposure unit would equal or surpass the quality promised. The print results were amazing! It truly looked like high-end offset lithography. The best news of all is that Hub will continue to get this quality long after Doug and I, as well as our Mark Andy partners, have departed.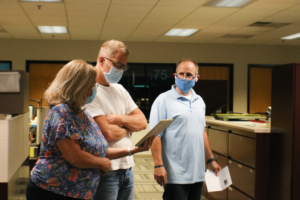 Dahbura agreed, "My team now has taken the gavel of knowledge over from Esko. I am proud of my team for really taking ownership of learning all the intricacies of this new technology. They are my flexo champions now and have the responsibility of taking all of the work that others at Hub have put into advancing innovation at Hub. That is in our DNA and it is great to see!"