Hub Labels Partners With Maryland Thermoform

Hagerstown, MD [May 6th, 2020] – Hub Labels announced a recent partnership with Maryland Thermoform, a Baltimore based manufacturer of plastic packaging, products and components, who began production of medical personal protective equipment (PPE) for our country's essential workers.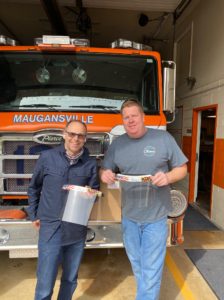 Maryland Thermoform recently began manufacturing reusable PPE Face Shields and Aerosol Intubation Boxes, both of which are used to protect healthcare professionals. Maryland Thermoform asked if Hub Labels could produce a label that would showcase that their PPE masks are manufactured in Maryland. "Hub Labels has a sterling reputation as an honest, high integrity manufacturer that treats their team and their customers alike", commented Carl Livesay, Vice President of Operations at Maryland Thermoform. "We value partners that recognize their team as assets to the business. Every member of the team at Hub Labels is singularly focused on delighting the customer. We feel like our business is important at Hub Labels. The label designed by your [Hub Labels] team is distinctive. It makes a statement and it is easy to spot. We receive compliments every day referencing the way the product looks and performs. Our PPE Face Shields are in the harshest COVID-19 environments. They are worn by the strike teams, special emergency response teams and emergency room teams. We are very proud that our product helps people return home safely to their family and friends."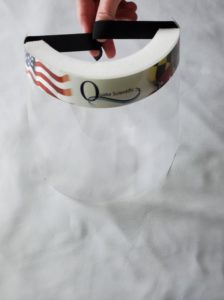 Partnering with local companies and helping local organizations is a vision that Hub Labels and Maryland Thermoform share together. Thanks to Maryland Thermoform, Hub Labels was able to donate a number of PPE masks to the Maugansville volunteer fire company located very near to Hub's headquarters. Carl Livesay added, "Maryland thermoforms choses to do business with as many Maryland companies as possible and we insisted that everything was manufactured in the USA. We pay a small premium for higher quality and better service because it is worth it. In addition to Hub Labels, there are five other companies in Maryland making or providing components used in the manufacturing of our PPE Face Shields. We are very proud to report that the PPE Face Shields are manufactured in Baltimore City. The foam used in our PPE Face Shields is manufactured in Baltimore City. The Face Masks used by our team are manufactured in Ellicott City. The boxes used for shipment are manufactured in Baltimore City. The gloves, hand sanitizer, tape, plastic bags and pallets also come directly from Maryland companies."
As an essential part of the food supply chain Hub Labels has expanded hours of operation to meet the high demand of label orders. Every necessary precaution is being taken to ensure the safety and well-being of the Hub Labels family.