Hub Goes Electric with a Chevrolet Volt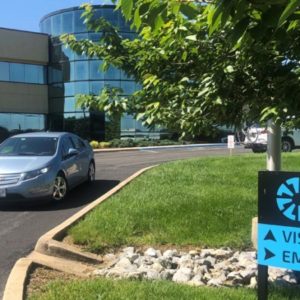 Hagerstown, MD (August 12, 2015)
Hub Labels recently purchased a 2015 Chevrolet Volt, a hybrid vehicle, to use as a company vehicle. The Volt is unlike traditional hybrid cars. It can drive on pure electricity for the every day commute and seamlessly switch to gasoline for longer trips.
For less than the cost of a latte, the Volt can be fully charged and get an EPA-estimated 38 miles gas-free. The Volt averages 900 miles between fill-ups. With the standard 120V charging unit, the car's battery is charged in about 10 to 16 hours. In addition, the Insurance Institute for Highway Safety (IIHS) named Volt a 2015 Top Safety Pick in its Small Car segment. With all of these great incentives, plus being environmentally friendly, the Volt is a great addition to Hub.
"We love to visit our customers and have a sales team who is always on the road", states Thomas Dahbura, owner of Hub Labels. "We track the amount of time our sales team is on the road and when I saw the numbers, an electric vehicle just made sense. It's an affordable way to reduce our carbon emissions and fuel consumption. I would tell any other business owner to consider investing in a Volt, as it will save your business money."
Hub Labels Goes Green
Hub Label's decision to purchase the Chevrolet Volt is part of their "Going Green" initiatives. In the past year, Hub Labels won several awards, including the Washington County Business Leadership award and the Maryland Green Leadership Award, all of whom recognize their efforts to leave the world a better place through caring for the environment, business sustainability, and embracing a leadership role in the community.
Hub Labels has an employee led team who reimagines how things are done at Hub to find new and innovative ways to reduce, reuse and recycle. The team meets several times a year to discuss ongoing goals and potential new projects to encourage employees to make eco-friendly discussions both at the label manufacturing facility and in their daily lives. It has been a great success for the company and one that employees have fully embraced.
Find your local chevrolet dealer for more information on the Chevrolet Volt.