Gallus Labelfire Delivery!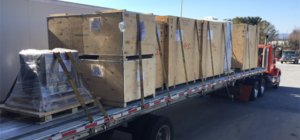 [Hagerstown, Maryland | March 2017] Hub Labels is excited to announce the arrival of their greatest and latest press, the Gallus Labelfire DCS 340 Digital/Flexo Hybrid Press, which will be operational in March of 2017. This is the second Gallus Labelfire press in the U.S. and tenth worldwide. It combines the latest in digital printing technology with the additional benefits of conventional flexographic printing.
On the digital side, it comes with state-of-the-art inkjet technology, including 7+ colors and 1200 dpi resolution, which is the absolute best resolution in the industry. What makes this press truly unique is that it also includes three conventional flexographic print stations. This hybrid digital-flexo press is ideal for short print runs and brands who like to frequently change their label as there are no plates needed when running on the digital press. It also has the ability to run digital white, variable text data and image personalization. With the flexography stations, plates can be made to implement label embellishments including coil foil. It is a perfect solution for any brand that loves to experiments with new materials and artwork to create a unique label. Many industries such as beer and wine, health and beauty, and the growing cannabis markets find printing on a hybrid digital-flexo press the ideal solution to their complex label needs and a great way to offer personalized brands to the consumer.
Check out the video for more information!
The Gallus Labelfire YouTube Video