Hub Labels Employee Spotlight – Matt Mauldin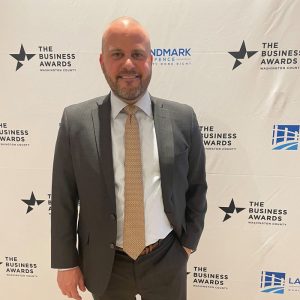 Hub Labels is excited to share our latest Employee Spotlight featuring Matt Mauldin, one of our new prime account executives. We set a few minutes aside to sit down with Matt and asked him a few questions on his experience and relationship with Hub so far.
How long have you been at Hub? What year did you start?
I started at Hub in 2021 in September so it has been 5 months that I have been here. It's been really great, I really enjoy the family atmosphere. It has been a really welcoming and a comforting place to work.
In order, what are all the jobs you've had at Hub in your time here?
My position is in sales for the prime segment. I sell pressure sensitive labels and my background is in label sales. What drew me here was knowing it was Maryland based and family company that has been around a long time and has a great reputation in the industry. I felt it was a team I had to be a part of.
What are some your most memorable moments at Hub? Business and non-business related, or both. 
I would have to say Thomas is what drew me in initially. I watched a video online and the passion and the way he carried himself with customer service, supporting the employees and people was really the main factor that drew me in.
What is your favorite part about working at Hub Labels?
My favorite part is having a voice that I know is heard and being a valuable member of a team where I feel like I am contributing. Getting acknowledged when I do something right is a good feeling.
I also really like the fact that the ownership of the company really values the wellness of employees and that there are options, whether it be the weight loss challenge or the great benefits package that are offered. You can tell things roll downhill from the top and there is a lot of thoughtfulness and caring.
I highly recommend anyone to work here and be a valued member of a team to have the opportunity to work hard and make a good living. It is a great spot to be.