Custom Labels Showcased at Pack Expo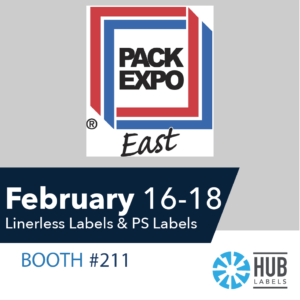 Hub Labels will showcase custom labels at the 2015 Pack Expo East. The custom label printer is expected to display linerless labels, in addition to custom pressure sensitive labels.
Hagerstown, MD | February 10 2015
The Association for Packaging and Processing Technologies (PMMI) has brought the latest packaging and processing solutions to the East Coast. As a result, the Pack Expo East is set for Feb. 16-18, 2015. Guests are invited to attend at the Pennsylvania Convention Center in Philadelphia. Attendees can expect the latest in innovation, education, and networking opportunities. Pack Expo East is the region's only event for processing and packaging technologies.
"Customer research is clear", says Jim Pittas, Senior Vice President of Tradeshows at PMMI. "Pack Expo East is a great opportunity for exhibitors and end users in the North East. The show promises to bring world-class innovation and insights to the region."
Various packaging and processing markets will attend, including:
Pharmaceutical
Medical device
Baking and Snacks
Beverage
Food
Personal care
"No matter your industry, Pack Expo East has something for you. Of course, we offer exclusive focus on processing and packaging technologies. For this reason, we have top-tier exhibitors, as well as a customer-first approach to operational needs. Moreover, it's everything you expect in a Pack Expo show. Finally, the expo is ideally situated 200 miles of a third of the nation's major consumer goods companies," says Pittas.
A Mixture of Technology
The expo provides much-needed access to advanced, whole-line solutions. For this reason, attendees can expect a great mix of technologies. Also, Pack Expo East offers attendees an opportunity to cross-pollinate ideas between industries. For one thing, show attendees can expect educational opportunities. In addition, innovation stage sessions are available. Furthermore, subject matter experts will be available for questions. Additionally, packaging and processing educators will demo the latest technologies. Finally, promotional and educational materials are accessible throughout the expo.
"Philadelphia is accessible and affordable", Pittas continues. "As a result, more team members can be brought to the show. Furthermore, this allows businesses to explore new line innovations. Therefore, solutions never considered can be explored. It's a win-win."
Pack Expo East's high-caliber educational programming will address common industry challenges. For example, topics include sustainability, food safety, automation, and also networking opportunities. Undoubtedly, the expo provides attendees an opportunity to connect with suppliers and peers on important issues and trends.
Custom Labels Manufacturer
Hub Labels is set to showcase various custom labels at the 2015 Pack Expo East. For example, the custom label manufacturer will demo linerless labels technology. As suggested, this no-liner label is an ideal solution for clam and skin pack trays. It provides a full wrap custom label solution to food packs with a high profile.
In addition, various custom pressure sensitive labels will be showcased.  Prime labels are used across a wide range of industries. Hub's capabilities includes coil foil, gloss or matte lamination, spot varnish, and more. To learn more about Hub Labels' custom label solutions, stop by Booth #211.
The Maryland-based label print facility is known for their customer service and quality labels. Through partnerships with leading material suppliers, Hub Labels creates custom label solutions for every customer. As a result, Hub Labels takes great pride in their product.
"Great label manufacturers ask questions", states John Doyle, segment manager for linerless labels. "Countless variables can impact label application. Custom labels are designed to stick. So, when a custom label won't stick, we want to know why. However, that level of service is not the norm. We want to ensure our customers get the labels they expect."
For over 35 years, Hub Labels has produced superb labels for small, medium and large companies across North America. Moreover, the label converter is a leader in sustainable business practices in the industry.
PACK EXPO EAST SHOW HOURS:
Monday, Feb. 16, 2015: 10 a.m.–4 p.m.
Tuesday, Feb. 17, 2015: 10 a.m.–4 p.m.
Wednesday, Feb. 18, 2015: 10 a.m.–4 p.m.
To learn more and to register for PACK EXPO East, visit www.packexpoeast.com.
About PMMI
The Association for Packaging and Processing Technologies (PMMI) is a trade association for over 650 packaging and processing supply chain companies . Additionally, the organization provides a full range of packaging and processing machinery, materials, components and containers. PMMI actively brings buyers and sellers together. Their programs and events includes the PACK EXPO portfolio of trade shows, networking events and educational programs.
Learn more about PMMI and the PACK EXPO trade shows at www.PMMI.org and www.Packexpo.com.