When Work Works Nomination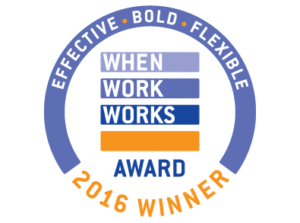 [Hagerstown, Maryland | March 2017] – Hub Labels has been selected as a finalist for the 2016-2017 When Work Works Award. When Work Works (WWW), is a research-based initiative, which highlights how effective and flexible workplaces can yield positive business results and help employees succeed at work and at home.
The award is unique for its rigorous criteria. To win, applicants must rank among the top 20% of U.S. employers in terms of their programs and practices for creating effective and flexible workplaces, based on nationally representative data from Families and Work Institute. Hub Labels has passed the first stage of the application process by scoring in the top 20% of employers nationally.
Also, two thirds of the overall score is derived from a confidential employee survey, ensuring that these programs and practices are having a real impact where the "rubber meets the road" on the employee experience. The survey needs to be completed by at least 40% of the company's employees.
The winners of the award will be announced in the upcoming weeks. Wish us luck!