Why Collage and Mosaic Labels Are Your Next Direct Mail Campaign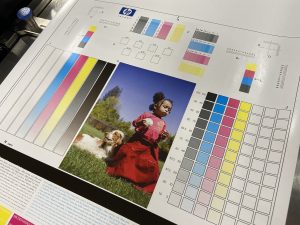 Label Collage to randomize an element's size and Rotation on your label design
Unique points of personalization drive the direct mail world. If you want return on investment you have to get up close and personal. Okay maybe not up close… these are mailings and not handshakes after all, but just personal. Label technology advancements such as mosaic and collage capabilities let you do just that. You can create personal labels for your direct mail campaigns at breakneck speeds, and you can produce a lot. These methods allow each label among thousands to have a design unique to just that one label.
A "Label Collage" is a method in which our label technology allows users to implement a basic element onto a label design in any desired pattern to create a unique label. This simple element, such as the picture of company mascot, can be placed on any area of a label with a variety of different sizes and rotations to make each label unique
To create a label collage label, design a label as normal. Then select the object where the collage pattern should appear and place into a new layer and label appropriately. In a separate illustrator file(s), create your seed file(s), or pattern, and send it along with your artwork. For more detailed instructions, please visit the Knowledge Hub.
New points of personalization across thousands of direct mail labels is right at the tip of small businesses fingertips thanks to HP technology.
Mosaic Labels Technology creates unique label designs, fast
Our mosaic label software can randomize any specific portion of a label design with as much control wanted for any print project. The label software will rotate, crop, zoom and mix any number of seed files to get a desired outcome on a label. These seed files are custom patterns within a layout that any label can use.
Variable printing for label personalization
So how exactly does Coke make all the bottles with everyone's name on them? In other words, personalized labels at a very large scale. This is what is called variable printing. Variable printing is a method in which design elements on a label can be swapped out or added to create a unique label or element for each individual product. These help the products set themselves apart from regular products on the shelf. Variable printing can create a sense of uniqueness that makes consumers want to buy because the label with the variable data seems special.
Benefits of Collage Labels
Create unlimited unique labels featuring one or many design elements
Full control over where and how a collage element is applied
Leverage variable data to swap designs, color, text and create sequential numbering
Reduce design time and cost by allowing technology to do the customization
Stand out on the store shelves
HP Digital press with 1200 dpi print quality
Ideal for short runs and limited releases
Implement into your existing brand and label die
How can Direct Mail benefit from Collage custom labels?
Personalization is the tried-and-true way to improve response and ROI in the direct mail space. The more points of personalization the more response. Collage and mosaic printing are just one more point of personalization that you can utilize in your direct mail material. Their ideal use cases include:
Address Labels
To/from tags
Sticker Sheets
Historically, collage printing has been used by large brands due to the technology seeming complex. This isn't the case anymore though; with HP we can execute short-runs and limited releases alongside standard offerings that allow businesses both large and small to utilize this technology.
Our advice is to start small and see the results firsthand. Set aside a small part of your direct mail budget to explore collage and variable printing and let the results speak for themselves. Different variable printing techniques will be more expensive than traditional campaigns but the return on investment will be worth it.