Linerless Labels for Skin Pack Trays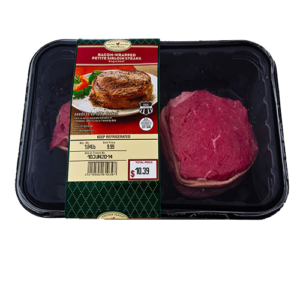 Hagerstown, MD | April 15, 2009 — Hub Labels is pleased to introduce Linerless Labels for skin pack trays to the United States marketplace. Linerless labels eliminate the silicone release liner used on traditional pressure sensitive labels. This revolutionary label is perfect for any packaging that lacks a smooth surface. This makes linerless labels the ideal choice for skin pack trays and vacuum sealed meat trays, too.
Primary markets include the meat, fish and poultry categories. Secondary markets include fresh produce, bakery and dessert food products.
Traditional pressure sensitive labels rely on a liner. PS liner serves two purposes. The first is to protect a label prior to being applied. The second purpose is to allow the labels to be wound on a roll without sticking to itself. Liner is silicone coated and allows for a label  to be released during the application process. Once a label is applied, the liner is thrown away and is typically non-recyclable. It should be noted, a few programs have been setup to process liner waste.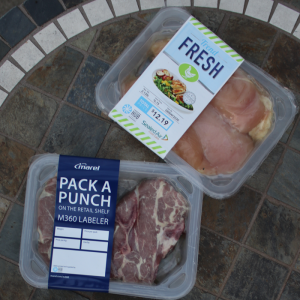 However, linerless labels do not utilize a liner. A linerless label is coated with a silicone layer on the label surface. The silicone layer allows for the material to be wound on a roll. During the
label application process
, the silicone releases the label material.
Sleeving or full-wrap labels effectively reduce the typical material weight of traditional sleeves, while also speeding up efficiencies. As a result, a linerless label roll holds more labels.  Also, freight cost is reduced. A food processes reduced production downtime and label reel changeovers. In turn, production line labor costs are reduced, too.
Getting Linerless Labels to the States
Linerless Labels have been popular for many years in the UK and Europe with over 12 billion+ applied annually. Hub Labels partnered with the UK Company, Ravenwood Linerless Labels and Sleeves, to bring linerless labels for skin pack trays to the United States. This high-end packaging solutions has a variety of application styles including a full-wrap and a c-wrap.

Linerless labels provide all the benefits of self-adhesive labeling with improved efficiencies, volume applications and environmental advantages. Available in silicone coated paper, board or synthetic materials, standard Linerless Labels deliver a semi-adhesive label format. The labels adhere to a tray through a series of technically placed glue strips. Reel weight is reduced by up to 40%. As a result, there is less weight waste, storage and reel changeovers. Linerless labels deliver consistency on-shelf, as well as increased surface area print to better service information and legislative requirements.
Linerless Label Benefits Include:
Zero backing paper waste
40% less reel weight compared to self-adhesive labels
More labels on a reel
Fully automated application speeds of up to 180 packs per minute
Fewer reel changes, less downtime
Consistency of format on-shelf
Increased surface print area
Tamper evident
For more information, contact our linerless team at linerless@hublabels.com.
Interested in Direct Thermal Linerless Labels? We got you covered! Learn more about Direct Thermal Linerless Labels and our partnership with UPM Raflatac.
VIEW OUR LINERLESS LABEL BENEFITS VIDEO