Hub Labels is Moving from Good to Great with Dupont™ Cyrel® Fast Easy Plates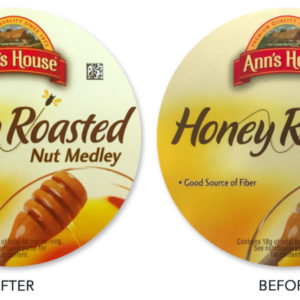 Hub Labels is expanding on their continuous innovation philosophy by going from good to great with Dupont™ Cyrel® Fast Easy Plates. This new plate technology platform simplifies the prepress process, which results in increased productivity and consistency.
The immediate benefits to our Hub Labels' customers can be seen from the examples below, the new plating system is able to produce a much more vibrant image, capable of picking up the tiniest details. In the example label, the honeycomb has a much more vibrant color to it and the gradients fade off gradually into the surrounding image. With up to 4,000 DPI, the image quality is unmatched. "I've been with Hub Labels for almost six years, the amount of technological advances we have adopted within the past few years is enormous. This new plate technology is another one of those advances and it will definitely help our customers make a visual impact in their marketplace," notes the Graphics Supervisor at Hub Labels.
From the beginning in 1978, Hub Labels has always been on the cutting edge of quality, productivity and sustainability. This expansion is part of an on-going effort by Hub Labels to drive progress and innovation on the manufacturing floor.. Thomas Dahbura, President of Hub Labels, believes in continuously driving best practices and involves every single employee in Lean Manufacturing & visual management. As a Lean company, Hub Labels is always looking at ways to make improvements to their processes to create more value for their customers, the most recent example being the installation of Dupont™ Cyrel® Fast Easy Plates.
Dupont™ Cyrel® Fast Easy Plates provide many needed benefits to the Hub Labels production process. Featuring flat top dots, which are built directly into the plate, helps the job come up to color quickly. These plates also provide excellent solid ink density with reduced impression, no bounce and superb fade to zero. "As they should be, brand owners are very particular about color and their overall brand consistency. To help maximize color consistency for our customers, we had to run spot colors to get the results they were looking for. Now we are seeing these new plates quickly come up to color so bright and vibrant, we hope to eliminate this extra step in the near future," notes the Purchasing Manager at Hub Labels.
With the installation of the Dupont™ Cyrel® Fast Easy Plates, Hub Labels also wanted to keep company wide sustainability goals in mind. This new workflow provides a superior environmental profile by eliminating all solvents and aqueous solutions from the plate room.