Winner of Best of Hagerstown in Manufacturing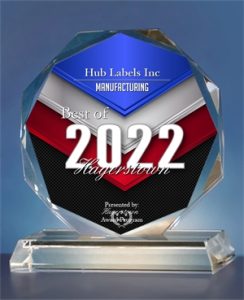 Hub Labels is the selected winner for the 2022 Best of Hagerstown Award in the Manufacturing Category .
HAGERSTOWN, MD | February 1, 2022 — The Hagerstown Award Program announced the winners for the Best of Hagerstown Business Awards. Hub Labels, a custom label printer, took the honor in the Manufacturing Category. The local manufacturer is a staple amongst the community and has been for over 42 years.
Each year, the Hagerstown Award Program identifies local businesses who make an impact in the local community. In addition, the award program recognizes businesses in various categories. The program focuses on quality, not quantity. Along with information gathered by internal sources, each company is vetted through third party sources.
All candidates are local to Washington County. Furthermore, each winner is active in our community and offers exceptional service. Each business selected is recognized as a leader of positive change within the community. Undoubtedly, the efforts of each business makes Hagerstown a great place to live, work, and play.
A Leader of Positive Change
At Hub Labels, employees participate in various community events throughout the year. One such example is Big Brothers Big Sisters of Washington County. Hub allows employees to use one hour of their work day each week to serve as a 'Big' to a child in need.
Each month, employees select a local non-profit to support. Funds and goods are donated to various organizations throughout the county. Most recently, Hub raised donations for the local homeless shelter, Reach of Washington County. Other organizations employees have supported include Brook's House, Otis Sake, The Humane Society, Adopt a Highway, United Way and Micah's Backpack. These are just a few of the organizations supported by the efforts of the employees at Hub Labels.
Hub Labels is also recognized for their work-life balance. The company offers health screening services to all employees. In addition, the facility features an on-site gym. Also, employees are encouraged to use an a wellness app that awards points for completing health challenges. As a result, Hub Labels continues to be recognized as one of the healthiest places to work in Maryland.
"It is truly an honor to work with the people at Hub", explains Carrie Aaron, Vice President of Human Resources at Hub Labels. "Our employees are some of the best in the tri-state area. Without them an award like this isn't possible!  Our team kicks ass!"
About Hagerstown Award Program
The Hagerstown Award Program is an annual awards program honoring the achievements and accomplishments of local businesses throughout the Hagerstown area. Recognition is given to those companies that have shown the ability to use their best practices and implemented programs to generate competitive advantages and long-term value.
The Hagerstown Award Program was established to recognize the best of local businesses in our community. Our organization works exclusively with local business owners, trade groups, professional associations and other business advertising and marketing groups. Our mission is to recognize the small business community's contributions to the U.S. economy.
About Hub Labels
Hub Labels, Inc. is a Maryland-based manufacturer of pressure sensitive labels and linerless labels. Hub is a landfill-free company and a certified member of the Sustainable Green Printing (SGP) Partnership. At the heart of Hub are the people, who are driven by five key principles: Safety, Sustainability, Innovation, Service and Community.