Hub Labels Hosts MWCC Quarterly Conference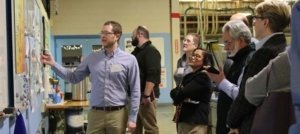 Hub Labels hosted the Quarterly Conference of the Maryland World Class Consortia (MWCC) on March 6th at their facility in Hagerstown, Maryland. The MWCC is a non‐profit organization built and sustained through the involvement of state and local government, expert practitioners and service providers, and a diverse collection of member companies (manufacturing, aerospace and defense, engineering, financial service firms, health care providers, commercial and food products, and many others). With a focus on lean business practices, participation in the MWCC enables businesses to share experiences, leverage the power of support networks, learn from peers and accelerate cultural transformation.
Jesse Hood, Hub Labels' Continuous Improvement Manager, talked to the attendees about a project initiated to boost employee engagement – the Shingo Insight Assessment – a tool that measures an organization's culture. Michael Myers of the Business Improvement Group presented on his experience with Toyota Kata. The presentations provided great insight into the challenges and exciting growth in the manufacturing industry. By coming together and sharing experiences, members are able to find innovative solutions to common problems that they can use when they go back to their facilities. The goal is to change the culture and perception of how companies do business from an old, antiquated thinking to a modern, lean and green approach.
After the presentations, attendees of the MWCC meeting were invited to take a tour of Hub Labels' 110,000 square foot facility. Hub Labels takes great pride in embracing lean manufacturing through the use of eco‐friendly water‐based and UV inks, recycling of a liner paper waste and decreasing their environmental impact and carbon footprint.