Hub expands hot stamping & emboss capabilities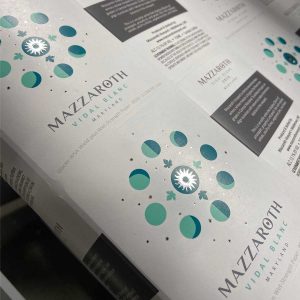 Hub Labels expands label embellishments capabilities with GM hot foil unit with hot stamping and embossing capabilities.
Hagerstown, MD | July 27, 2021. – Maryland-based label converter, Hub Labels, announced the recent installation of a hot stamp and embossing unit. Hub chose a Grafisk Maskinfabrik (GM) HOTFB330 standalone hot stamp unit to replace their existing equipment.
Not only does the new unit update Hub's capabilities, but it also produces the precise label embellishments that customers expect. Equipment capabilities include foil stamping and embossing, as well as one pass foil and embossing. Moreover, the equipment runs up to 82 ft of labels per minute. In addition, the hot stamp unit runs substrates in web widths from 2" to 13", and 2 pt to 8 pts thick.
The new equipment will primarily serve the distillery and wine markets, as well as the health and beauty market.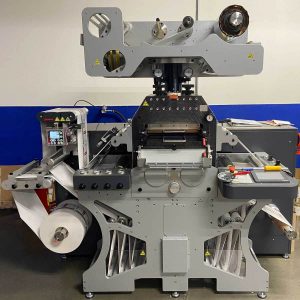 Continuing a Family Legacy
In the last year, US beverage and alcohol consumption grew significantly. As a result, Hub Labels spirit and wine label orders have also climbed. Consequently, the increase in sales coincided with an increase in demand for labels with a premium look. While Hub Labels had hot stamp capabilities, the outdated equipment was slow and difficult to run. Hub needed a better solution. Therefore, the label manufacturer sought a new hot stamp and embossing machine. Thomas Dahbura, second generation owner of Hub Labels, turned to Quality Discount Equipment (QDE) for help.
"My father, Bud Dahbura, had incredible trust in the crew at QDE," states Dahbura. "But, he also had high expectations. My father and mother built this amazing and incredible legacy that is Hub Labels. I strive to uphold those traditions. When I called QDE, they knew I wanted the best and that's what they delivered. In these incredibly challenging times, to have those relationships and a continued commitment to excellence is what drives our business forward."
Choosing the Right Hot Stamping Unit
When Matt McCabe, Sales Manager at QDE, received the phone call from Thomas about a new hot stamp and embossing machine, the GM HotFB330 was the obvious choice due to their outstanding quality and exceptional after sales service and support. "I've sold numerous pieces of equipment from many world class manufacturers. In this space, GM is a clear stand out," states McCabe. "In addition, I have known the Dahbura family for years. I've worked with both Bud and Thomas on equipment purchases. Hub Labels is a first-class organization with character and integrity. I want to protect those values by recommending equipment that honors those traditions."
After thoroughly vetting the GM hot stamp equipment, McCabe knew he had the right solution for Hub Labels. "In a sea of suppliers, there is no room for error," explains McCabe. "Not only is the GM technology superb, but also the amount of training and support available for label converters is unmatched. This is invaluable given the complexity and challenges associated with producing the highest quality labels that Hub Labels offers."
Creating Label Embellishments with Precision
The GM HOTFB330 offers several capabilities. Advanced features include a servo register system for printed marks and an optional label gap sensor. Also, the unit features a user-friendly touch screen with a label counter and meter counter, and a BST ultrasonic web guide.
The GM hot stamp can apply gold, silver and holographic effects. In addition, two foils can be applied at once to create a split foil effect. The equipment also provides the ability to both emboss and deboss, which allows brands to create stunning labels.
Using the latest in technology, the hot stamp unit offers easy web access and maintenance so when issues arise, the GM team can quickly diagnose and solve issues.
"Demand for labels with a premium look has gone up", says John Potterfield, production supervisor at Hub Labels. "A new hot stamp and embossing unit was necessary, as our clients expect top-notch labels. We are now achieving the most incredible detail and crisp foil we've ever seen."
Since installing the equipment, Potterfield also noted a reduction in label waste. "Registration is a breeze", explains Potterfield. "My guys touch a button, and registration is completed very quickly. Setup is straightforward and simple. As a result, we go through less material, and are more sustainable. Anytime we can reduce waste at our facility, we get excited."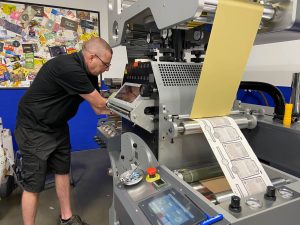 About Grafisk Maskinfabrik (GM)
Grafisk Maskinfabrik (GM) is a global player on the label market. GM provides advanced equipment solutions for the self-adhesive label converting, finishing and flexible packaging industry. This includes automated converting lines, hot foil stamping, screen printing, die cutters, laser die cutters, slitter-rewinders, roll lifters, sheeters and core cutters. The combination of experience and innovative technology makes GM a unique innovative partner in the world of finishing. Visit www.gm.dk to learn more.
About Quality Discount Equipment (QDE)
Quality Discount Equipment, LLC helps businesses buy and sell equipment. The 27-year old company attributes their growth to excellent customer service, product quality, great delivery, and extremely competitive pricing. Furthermore, QDE continues to expand their product line based on input from their customers throughout the world.  Visit www.qualitydiscount.com to learn more.
About Hub Labels
At Hub Labels, we are label fanatics. We create custom labels, linerless labels and banding labels that are sold in stores across the United States, and even venture into space. Building long-term relationships with customers, vendors, and suppliers motivates us and is the catalyst of our success. Through these relationships, we bring ideas to life, help build brands and make the impossible possible. Our modern fleet of flexographic and digital printing presses allows us to print superb labels, faster and better. This includes a flexographic-digital hybrid Heidelburg/Gallus Labelfire press with expanded color gamut which is unmatched in the industry. At the heart of Hub are the people, who are driven by five key principles: Safety, Sustainability, Innovation, Service and Community. Connect with us at
www.hublabels.com
on your next label project.