Hub Labels Employee Spotlight – Blake Miller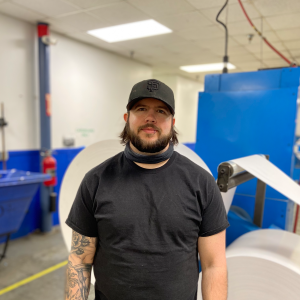 Hub Labels is excited to share our latest Employee Spotlight featuring Blake Miller, Press Operator. We set a few minutes aside to sit down with Blake and asked him a few questions on his experience and relationship with Hub.
How long have you been at Hub? What year did you start?
I've been here for 8 years now, I started in 2014.
In order, what are all the jobs you've had at Hub in your time here?
I started in shipping on 2nd shift, then I moved to the warehouse on first shift, then back to shipping to be the lead in shipping, then I went to customer service, then I went to prepress and now I'm a press operator.
What are some your most memorable moments at Hub? Business and non-business related, or both. 
Getting to work with all the different people and meeting everybody. I remember when they brought the digital press in, that was pretty cool. Everyone was excited about that. It's nice to see different aspects of pretty much every job. I've dealt with or at least worked beside pretty much everybody in here at this point.
What is your favorite part about working at Hub Labels?
Probably the people that I get to work with. There's quite a few people in here that I would really consider friends and I've grown good relationships with the people I work around.
What has changed about Hub since you started working here?
A lot and not much at the same time. We've gotten new presses like I said the digital press wasn't here when I started, the MPS Press wasn't, the new coder wasn't… there are a lot more presses and new people.