Benefits of Direct Thermal Linerless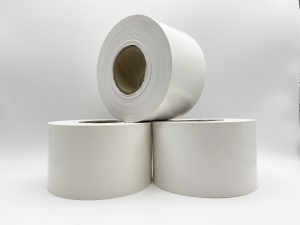 Many businesses are making the switch to Direct Thermal (DT) Linerless Labels due to the vast efficiency improvements and cost savings gained. By going linerless, companies maximize label efficiency by reducing needed label SKUs, saving storage space, increasing uptime, reducing maintenance costs, and reducing waste.
Direct Thermal Linerless Labels sales are expected to grow by 10% CAGR (Compound Annual Growth Rate). The on-demand print solution uses Clean Cut Technology to reduce adhesive residue, which increases equipment uptime. DT Linerless is food safe and phenolp free. DT Linerless Labels are used across a variety of markets, such as: Supermarkets, Hot Food Prep, Cold Food Prep, To-Go Food, and Logistics.

Efficiency Gains
Increase uptime, reduce the need for roll changes and minimize storage. Clean Cut Technology reduces adhesive residue and reduces down time by up to 5x.

Flexibility
Label size needs can vary up to the point of printing. Can be cut to any length and reduces the number of label SKUs. No die cutting required.

Cost Savings
Consolidate SKUs and lower material costs. Eliminate the cost needed to handle and process the disposal of liner waste. Reduce Maintenance costs due to Clean Cut Technology.

Sustainability Matters
Uses 40% less paper than comparable linered PSL. Material originates from sustainable managed sources to protect wildlife, mitigate climate change and improve water quality.
Interested in a free Direct Thermal Linerless Test Roll? Request a FREE roll today! Each roll is a 58 mm x 50 m roll and comes on a 40 mm core. We have a limited quantity of free rolls. Limit of one roll per user and business location.