Several companies in the 4-State promote wellness in the workplace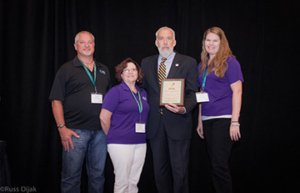 Written by Nina Kapur | nkapur@whag.com
Companies across the four-state find that it's important to promote healthy lifestyles and wellness in the workplace. It's important that you can provide a good workplace like this, this could be either offering them plenty of stationary, a good office chair, and a nice working environment. Of course, encouraging employees to be active during the day leads to higher levels of productivity and job satisfaction.
Hub Labels – a label printing company based in Hagerstown – took home silver this year by winning the Wellness in the Workplace Award at the Annual Maryland Workplace Health and Wellness Symposium.
"Wellness, to me, is more than just exercise and fitness," Thomas Dahbura, the president of Hub Labels said. "It's also your spiritual wellness and how happy you feel about who you are. So, some of the cool things we do are outreach programs in the community."
Hub Labels volunteers at local elementary schools and other locations around the community. There's an entire committee of employees dedicated to workplace wellness initiatives. Initiatives include volunteer work, exercise classes every Tuesday and Thursday, and even healthy cooking classes. "They [employees] have to make the choice to change their lifestyle," Pam Kunkle, the HR Specialist and Head of the Wellness Committee said. "We provide everything that we can for them to be able to do that."
Ten years ago, the office gym opened. It went from a small room to a complete workout space. Employees said this changes their attitudes and motivation. "We work a lot," Carrie Aaron, the HR Manager said, "To provide an outlet to employees to release some positive energy definitely helps the morale of our employees," Kunkle said. Moving forward, she would like to see more healthy cooking classes and healthy vending machines pop up around the office.
View the video about the companies recognized for their employee wellness efforts!