Hub wins the Silver Award for Healthiest Maryland Business Wellness at Work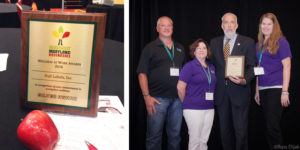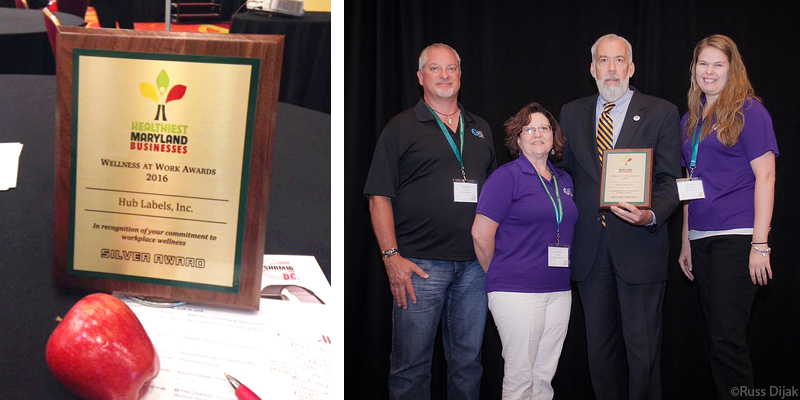 On Friday, June 10, Van Mitchell, Secretary of the Maryland Department of Health and Mental Hygiene, presented a Silver Wellness at Work award to Hub Labels, Inc. in recognition of their exemplary accomplishments in worksite health promotion.
A healthy workplace can come in many ways and it is important that businesses try to incorporate as many measures to ensure employee wellness and happiness. This could be things like bulk buy toilet roll so that employees do not feel uncomfortable going to the restroom and they can all ensure basic hygiene with the sanitary supply company of choice. Also, allowing employees to take breaks when they feel overwhelmed or stressed. It is the little things that amount to a lot when managing wellness in a business. Taking care of employees is highly important, they need to know that they are going into a safe area, so keeping stock of a worksite first aid kit is important in case they need to use it.
The Wellness at Work Awards took place as part of the 7th annual Maryland Workplace Health & Wellness Symposium at the BWI Marriott in Linthicum Heights. Hub Labels, Inc. was one of 42 businesses to receive an award.
The Wellness at Work Awards are sponsored by Healthiest Maryland Businesses, the state's initiative to support healthy workplaces. Employers may earn a Gold, Silver, Bronze, or On the Path award. To be eligible for an award, businesses are required to establish leadership support for wellness, create wellness committees, survey the needs and interests of their employees, set health improvement goals, and develop monitoring tools to track their outcomes over time.
Launched in 2010 and based at the Department of Health and Mental Hygiene, Healthiest Maryland Businesses helps businesses create customized wellness plans, set wellness goals and monitor progress. Six regional coordinators around the state provide personalized guidance to businesses of all sizes. To date, over 460 businesses have signed on to take advantage of this program.