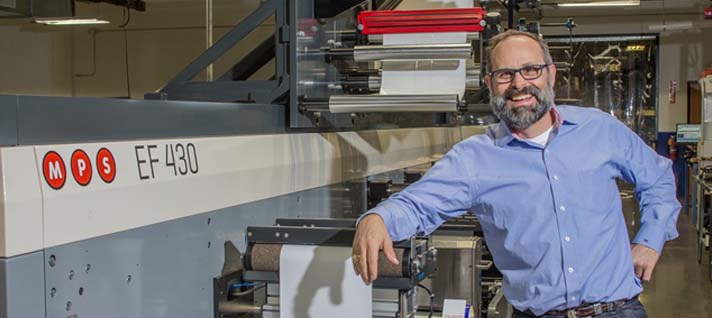 Hub Labels installed a MPS EF 430 printing press, which is mainly used for linerless labels application, in the spring of 2018. Only two companies in the United States are offering this more environmentally friendly label solution to their customers.
Hub Labels, Inc. introduced linerless labels to the US Markets in the 2009. Linerless provides many of the same benefits as self-adhesive labeling but with many additional benefits including improved efficiencies, volume applications and environmental advantages because they do not use label liners.
Standard linerless labels are available in silicone coated paper, board or synthetic materials. The semi-adhesive label format partially adheres to a pack through a series of strategically placed glue strips. Label facestocks are then supplied without liners. This leads to a reduction of reel weight by up to 40%, which means less weight waste, storage area and fewer reel changeovers.
In February 2018, the family-owned company decided to invest in a MPS EF 430 for printing linerless labels and ps labels and since installation, the company has seen significant improvements in quality and speed when running linerless on the press. The MPS EF is an automated multi-substrate flexographic press, specially designed to print labels and flexible packaging on a range of substrates. The addition of the EF will provide Hub Labels, Inc. with flexibility through its ability to print a range of substrates including thin film, paper, shrink sleeves and flexible packaging.
"MPS and the Hub Labels teams collaborated months before the actual installation of the press. We reviewed out timelines and clearly communicated our expectations to each other", comments Hub Labels president Thomas Dahbura on the cooperation with the press manufacturer. "We had the press shipped to us from overseas and ran into some delays caused by a winter storm, but both MPS and Hub Labels were flexible and reacted professionally to the delay. MPS worked more than 12 hours a day to get back on track and finish on schedule."
The sale was led by Michael Weyermann, area sales manager at MPS Systems North America. Weyermann comments: "We are glad to see that Hub Labels was convinced by the MPS quality and the flexibility of the EF press. This press offers them new capabilities in the high-speed production of various substrates, especially the production of sustainable, environmentally friendly linerless labels."
Thomas Dahbura sees further growth potential on the newer applications. "Linerless is not only more sustainable due to the overall packaging savings. It can also be used for products such as poultry, meat, seafood, produce, bakery items and more. We are very excited to offer this new option to our customers to help them grow their brand with us" states Dahbura. "The addition of this press complements the current full service, one-stop solution to existing customers as well as nurturing new customers, especially in the linerless label market by offering a wider web and unsupported film printing solutions."
Hub Labels, Inc., manufacturer of pressure-sensitive and linerless labels is located in Hagerstown, Maryland. On February 21st of 2018, Hub Labels celebrated the new MPS EF press with a ribbon cutting ceremony at their facility that featured the MPS EF 430 printing press running local business, Perdue Farms', linerless labels. Hub Labels' pressure sensitive labels manufacture many regional and national brand names and can be found in over 70% of households mid-atlantic region.
https://www.hublabels.com/wp-content/uploads/2019/04/mps_ef_430.jpg
318
712
Joe Ingram
https://www.hublabels.com/wp-content/uploads/2018/06/logo.jpg
Joe Ingram
2018-10-15 11:20:00
2019-05-09 13:11:10
Hub Labels installs a MPS press for Linerless Labels